Lobster Season comes to a close
Tuesday, February 11th, 2014
The Belize Fisheries Department has officially announced the closing of the lobster season for Saturday, February 15th, reporting a decrease of 1.2% in the 2013 total production as compared to 2012. An estimated $12,783,305 was made in lobster exports for 2013.
According to the Belize Fisheries Department, the season was not as prosperous as initially predicted due to inclement weather. Spiny Lobsters are found in areas with a high concentration of salinity. Constant rain introduces fresh water to the seas, causing salinity levels to drop and lobsters to move into deeper areas with appropriate salinity levels. Size of product also played a role in the 2013 season. Fishermen reported that majority of the lobsters being caught were undersized and thus needed to be released, since a lobster tail must weigh over four ounces or the cape length/carapace must exceed three inches for it to be legal for consumption.

At total of 547'638.5 pound of lobster product was extracted from Belizean waters. Most of the export product was fished from the northern waters of Belize, where the majority of the product fished in Placencia, Ambergris Caye and Caye Caulker was consumed as tourism product instead of being exported by the national market.
The lobster season will remain closed until midnight of June 14, 2014. While the season is closed no person is allowed to fish, consume or sell lobster products. Failure to comply with the closed season will result in prosecution in court under Regulation 3 (1) (b) of the Fisheries Regulations, Chapter 210 of the Subsidiary Laws of Belize R.E. 2003. All lobster traps are to be removed from Belizean waters by midnight of Saturday, February 15th in order to avoid prosecution.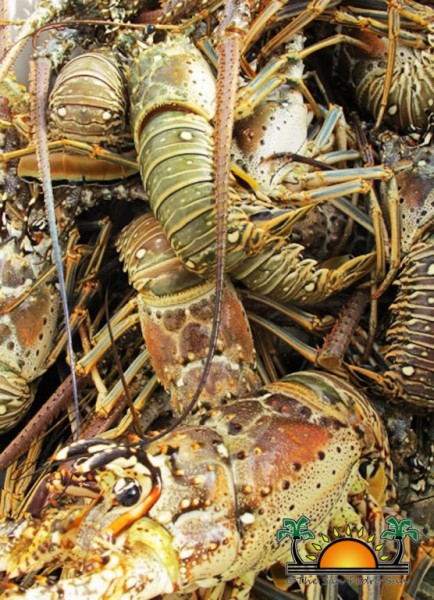 For any further question or concerns on the season, contact The Belize Fisheries Department at phone number 224-4552/203-26233 or email at [email protected]/[email protected].
Follow The San Pedro Sun News on Twitter, become a fan on Facebook. Stay updated via RSS