Tribute to Bob Marley Cycling Race
Wednesday, February 12th, 2014
The San Pedro Sports Committee and local star athlete, Kent "Bob" Gabourel organized a bicycle race that saw over 23 young cyclists gathering at Central Park at 2PM on Saturday, February 8th. The race consisted of two categories, juveniles and juniors, and was part of the Tribute to Bob Marley Celebrations, which included a reggae concert later in the night. The route consisted of riders making several laps around town core via Barrier Reef and Pescador Drive.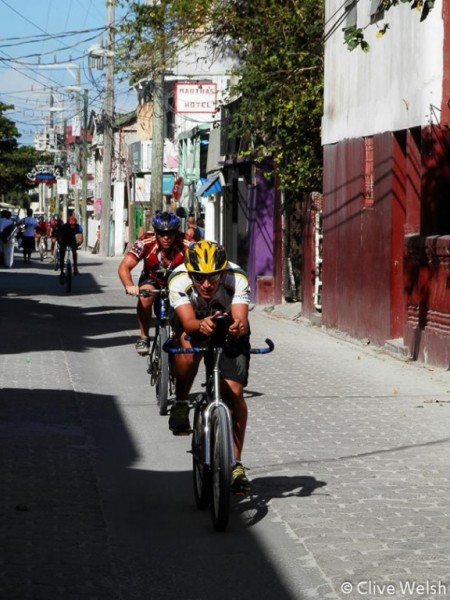 The juvenile race made eight laps around the designated route, and leading the pack was Zinedine Pinelo, who claimed first place. Pulling in a close second was Deandre Vasquez, while Gian "Gigi" Gonzalez settled for third. Each young athlete was awarded a trophy and $20 cash prize for their hard efforts.

In the juniors category, the race was extended to 12 laps. The adrenaline was pumping as each of the young athletes had their eye on the first place trophy. Royan Mendez ended up sweeping the competition, as he was the first to cross the finish line. Not far behind was Kiean Ancona in second place, and Byron Lara rode in third. Winners in the junior category were also awarded a trophy and $20 cash prize.

Organizers congratulate all the riders for taking part in the race, and encourage each and every young rider to continue participating in the sport. In addition, thanks goes out to The San Pedro Town Council, Gabby's Construction, Captain Sharks, San Pedrano's Grocery, Lordes Store, El Dorado Store, Green House, David Backer, Elito Arceo, El Fogon Restaurant, Javier Saldivar, Miriam Saldivar, Ilda Ancona, Shelly Huber, Mercy Trejo, Susana Eiley, Norman Eiley and Leonor Rosado for supporting the committee's first BBQ fundraiser. Special thanks go out to San Pedro Police Department and San Pedro Traffic Department for helping in the logistics for the race.
Follow The San Pedro Sun News on Twitter, become a fan on Facebook. Stay updated via RSS