Global Fantasies advertises Belize as a hedonistic escape
Saturday, February 22nd, 2014
Recent reports have surfaced of a website, namely Global Fantasies, promoting Belize as a destination for guests to enjoy the services of exotic escorts. According to initial reports, the website offers packages for visitors to enjoy Belize's prime tourism destination along with the sexual company of Belizean women. Upon learning of this the Belize Tourism Board (BTB) quickly issued a press release on Wednesday, February 12th in which they denounced any affiliation with Global Fantasies.
The press release stated, "We were recently made aware of a website created by an unknown group claiming to operate an 'adult fantasy' vacation destination in Belize. The Belize Tourism Board (BTB) is in no way affiliated with this group nor does it condone its actions, as this is a human rights issue. The Ministry of Human Development, the Human Rights Commission, and the Belize Police Department have been notified and will be handling the resulting investigation."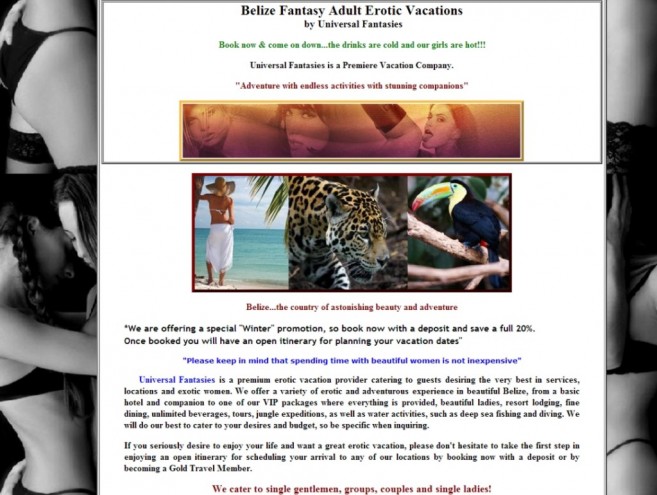 The website is rumored to be operated out of Los Angeles, California, USA and includes destinations such as Turneffe Isalnd, located with the Turneffe Atoll. Among the scandalous images listed on the page, are those of several past and present Belizean Beauty Ambassadors. Viewers reported that many of the pictures shown on the website were not owned by Global Fantasies but have been copied from other media sources.
Of course residents of Belize reacted negatively to the advertisement, stating that the promotion of Belize as a haven for hedonism is jeopardizing the growing eco-tourism industry and family destination.
On Friday, February 14th the BTB issued yet another press release expressing the severity of the matter. Prostitution is illegal in Belize, and any business or person affiliated with the act can be held liable and face charges for the crime. In the press release, BTB explained that any hotel, tour operator or tourism facility will be prosecuted under the Hotel and Tourist Accommodation Act, Chapter 285 of the Substantive Las of Belize. According to Section 27 (1) of the act, "It is an offence for any person who having been granted a license to use any premise for the business of the hotel or tourist accommodations, to use such premise otherwise than in accordance with the terms and conditions of the license issued by the Registrar of Hotels. Such person who commits an offence and is liable on summary conviction to a fine not exceeding ten thousand dollars or to imprisonment for a term not exceeding three years, or to both such fine and term of imprisonment." Licenses for the business can also be canceled or suspended according to the severity of the crime. The letter was forwarded to all tourism stakeholders as a precaution on the matter.
Relevant authorities are investigating into the matter. Residents are asked to report any further information that can determine the source of the website to your nearest authorities or to BTB.
Follow The San Pedro Sun News on Twitter, become a fan on Facebook. Stay updated via RSS