Pablo Garcia to appear in season two of The Belize Apprentice
Saturday, March 1st, 2014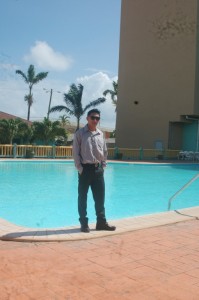 San Pedro Town's very own Pablo Garcia made the cut and will be part of the cast for the second season of The Belize Apprentice. The Belize Apprentice is a reality television show in which aspiring young men and women compete for the chance to work in one of the most prominent banks in Belize, The Belize Bank. With the success of the first season, the show is back and is scheduled to air in March 2014 on Channel 5.
The show is modeled after the US and UK Apprentice Shows. In the US, The Apprentice Show is managed by Donald Trump, where a group of business people partake in an elimination style competition to win a dream job at one of Trump's companies. Similarly, The Belize Apprentice will allow the winner to obtain a dynamic position as the "apprentice" within The Belize Bank family,complete with attractive salary.
Competing for this chance of a life time is 21-year-old, Pablo Garcia. Garcia has his Associate's Degree in Business Administration and is an aspiring photographer. He was accepted as part of the cast on Friday, February 14th after a series of preliminary interviews held on Wednesday, February 12th. "I was accepted for this show and I will proudly represent our beautiful town San Pedro on the #1 Island in the world," said Garcia.
The show's participants will be residing at the Renaissance Towers in Belize City for the duration of the show. The show will test the participant's skills in sales, marketing and creativity. Contestants will work in teams, under the guidance of a professional mentor. Each team will need to pick a project manager from within the team and complete a series of business tasks with limited resources given to them. At the end of each episode one participant will be sent home. In the end, only one will rise above the challenge and win the grand prize.

The San Pedro Sun wishes Garcia best of luck!
To learn more on The Belize Apprentice visit https://www.facebook.com/TheBelizeApprentice. To catch up on season one of The Belize Apprentice visit www.youtube.com/watch?v=VbcmwrBrChE.
Follow The San Pedro Sun News on Twitter, become a fan on Facebook. Stay updated via RSS