Law enforcement agencies descend on Ambergris Caye
Thursday, March 20th, 2014
A contingency of law enforcement agencies consisting of members of Belize Police Gang Suppression Unit (GSU) and the Belize Defense Force (BDF) have descended on the island to tackle the surge in crime. The over 50 officers are part of an operation to "clean up" the island and purge Ambergris Caye of rogue elements that have caused havoc, contributing to a drastic increase in crime activities over the past few weeks. The law personnel were deployed in the wee hours of Thursday March 20th and by 4AM, they were out conducting early morning raids.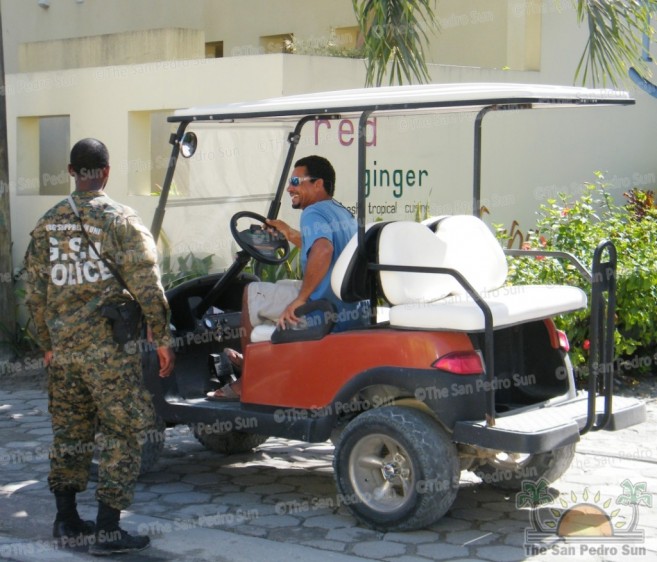 Residents as well as tourism stakeholders have been complaining about the spike in crime and have been calling on the government for immediate action. The sentiments were echoed during a peace rally last week in which over 400 islanders demanded that elected leaders take measures to bring the island back to normality.
According to the head of the special operation, Commander of Operation at the Eastern Division Police Department (which includes Ambergris Caye) Senior Superintendent of Police Edward Broaster, the contingency of officers that are deployed to San Pedro are operating independently of the local police force. "We are conducting our own patrols and raids given the surge of shooting incidents in San Pedro Town and on the island in general. We want to ensure that San Pedro continues to be the tranquil place it is known for and for the residents and our tourists to enjoy the island for what it is."

Broaster said that residents and tourists should not be afraid of their presence and that in fact they are targeting rogue people and criminals who are responsible for the illegal activities on the island. "Our operations will include motorcycle patrols, vehicular checkpoints and targeted raids," said Broaster. He indicated that in just the few hours in to their operations, the team has confiscated over one kilo of suspected cocaine and various amounts of marijuana that has lead to several arrests.
"I want to inform Sanpedranos to be on the lookout and to notify us of any suspicious activities they see in their areas. We know the challenges affecting the island and we want to address those issues but we need the community to help. The residents need to notify us about suspicious activities in their neighborhood," said Broaster. The operations began on March 20th and will run indefinitely until the island can see a sense of peace and normality.

Broaster added that one of the most effective ways the community can do their part in making the island a safer place on a long term bases is by forming neighborhood watch groups.
Follow The San Pedro Sun News on Twitter, become a fan on Facebook. Stay updated via RSS