Fishermen targeting shark for export to Guatemala caught
Friday, April 11th, 2014
Two fishermen were busted with shark meat and fins amongst other items when they attempted to export the products to Guatemala. The two men are Jose Chulin and Lineker Ortega, both Belizean fishermen. The incident highlights a problem that conservationists have been clamoring for years, a total review of the shark fishing trade and better enforcement of shark fishing regulations. Those talks have not seen much progress, but the incident, which occurred on March 22nd in southern Belize, brings to light the issue about the shark trade once again.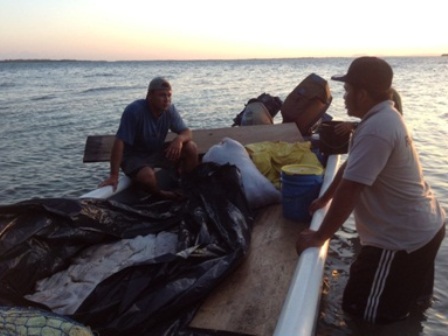 The Belize Fisheries Department said that the Toledo Institute for Development and Environment (TIDE), while on routine patrol in the south, spotted a vessel in the Port Honduras Marine Reserve. The TIDE ranger immediately radioed for assistance, but when rangers attempted to approach the vessel, it sped off. A chase ensued and 15 minutes later, the vessel and the two men were cornered, with the assistance of other rangers, in the vicinity of Frenchman Caye situated off the coastline of the Toledo District.

Inside the vessel were Jose Chulin of Ranchito Village in the Corozal District and Lineker Ortega of Temash River in the Toledo District. The two had valid Belizean Fishing Licenses but were busted with two gills nets longer than 100 meters, 542 pieces of salted shark, 439 pieces of mackerel and catfish and 73 shark fins.
According to the Fisheries Department, when the two men were in the process of being transported to Punta Gorda Town, they managed to escape in the dark of night, and despite searching the entire coastline, the men were not found. It was not until the following morning, on Saturday March 22nd, when a person called TIDE and reported that two fishermen had requested his assistance in exporting salted marine products to Guatemala. TIDE immediately responded and that is when they executed the arrest.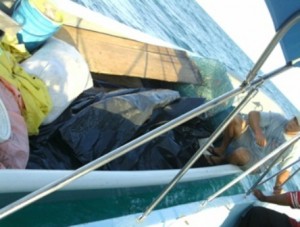 Police in Punta Gorda finally arrested and charged the duo on March 24th for the crimes of shark fining, possession of a gill nets longer than hundred meters, and attempting to export fish without an exporter's license. They were arraigned in the Punta Gorda Magistrate's Court where they were offered and met bail. Most of the products had to be thrown away because it was spoiling.
Under the Fisheries Regulation, Statutory Instrument #78 of 2011, shark fishing and export of any shark product is prohibited without a special shark fishing license. Anyone caught breaking the law is deemed punishable after summary conviction of "not less than $100 or more than $500 or six months imprisonment or both." It is uncertain where the shark fins end up, but in Asian countries shark fins are considered a delicacy and are in very high demand, selling for a very high price.
Follow The San Pedro Sun News on Twitter, become a fan on Facebook. Stay updated via RSS