The two police houses still not moved
Monday, April 14th, 2014
Three weeks after the Mayor of San Pedro Town Daniel Guerrero and the Deputy Mayor Gabriel "Gaby" Nuñez promised to move the two houses donated to the San Pedro Police Department, no action has been taken. Moreover, there seems to be no real indication as to when the houses will be moved.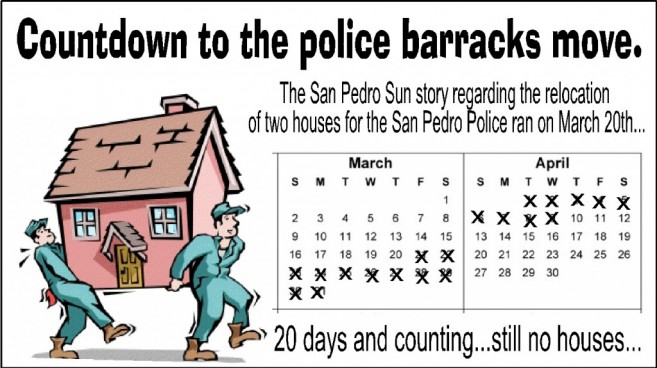 The houses were donated to the police by the San Pedro Business Association (SPBA) to alleviate the terrible, dilapidated living conditions of the San Pedro Police personnel. SPBA member Elito Arceo had offered to execute the move, but stepped down after Mayor Guerrero publicly stated that the council was ready to do so. But it has been over three weeks now and the houses are still sitting in the San Pablo Area. When Nuñez was questioned, he set yet another date and indicated that the houses will be moved before the Easter Holidays.

Nuñez said that efforts are being concentrated in completing another project that will also help to alleviate the living condition problems. He said that the new buildings of the barracks are moving ahead. Financed by a small group of business people on the island and spearheaded by Mukul Kanabar, it is expected that the new barracks will be completed soon. In fact, the Deputy Mayor stated that all the wiring for the two-story building has been installed and windows are being put in place.
Because he is donating his time with the two projects, Nuñez said that as soon as time permits, the two buildings will be removed. The San Pedro Sun will continue to follow up on the progress of these two projects.
Follow The San Pedro Sun News on Twitter, become a fan on Facebook. Stay updated via RSS