Ambassador to the Past Program takes students into Marco Gonzalez Maya Site
Friday, May 23rd, 2014
Students from three primary schools on Ambergris Caye participated in the Ambassador to the Past Program in which they were taken to visit the Marco Gonzalez Maya Site. The program is headed by Dr Scott Simmons of the University of North Carolina in Wilmington, USA and Galen University in Belize. The Ambassador to the Past Program is a grant aided initiative that is in its third year and is aimed at connecting students with the Maya cultural history of the island through archeology.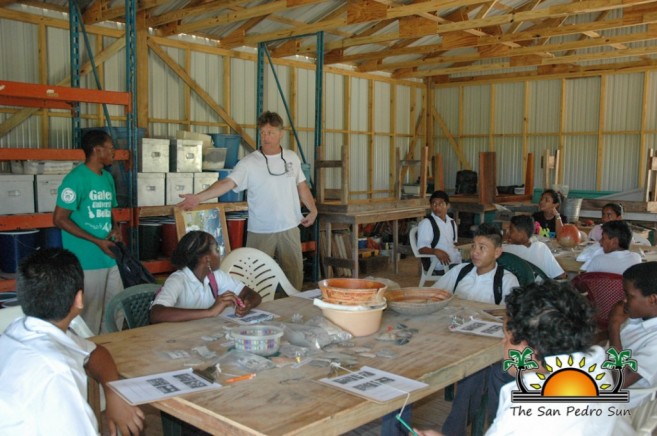 As part of the program, students have been learning about the life of the Maya that once occupied the Marco Gonzalez Maya Site. According to Dr. Simmons, over the past two years, the activities for the Ambassador to the Past Program were held in the classrooms, but this year students were brought to the Maya Site. "What we did this year is some archeological activity on the site. The primary school students got to participate in doing a surface survey. They are learning to observe things just like a scientist would do in the field. The students were asked to take notes based on their observations and they drafted conclusions on what they found when doing the surface survey," said Simmons.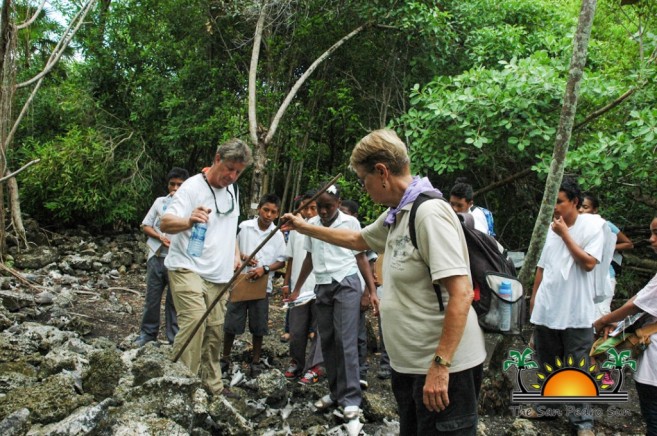 Archeology students from Galen University also joined Dr Simmons in explaining the role that sites like Marco Gonzalez played. Marco Gonzalez served as a trading center for the travelling Maya. Over the past two weeks, the students from Holy Cross Anglican School, Isla Bonita Elementary and Ambergris Caye Elementary School were divided into groups of 12. Once on site, they were further divided into three separate groups where the "junior archeologists," led by a group leader, toured the area. "We want them connect with the past; this is their own cultural history, the island's history. This will help them to understand that the past is still here alive and it's a part of their heritage and who they are," explained Dr. Simmons.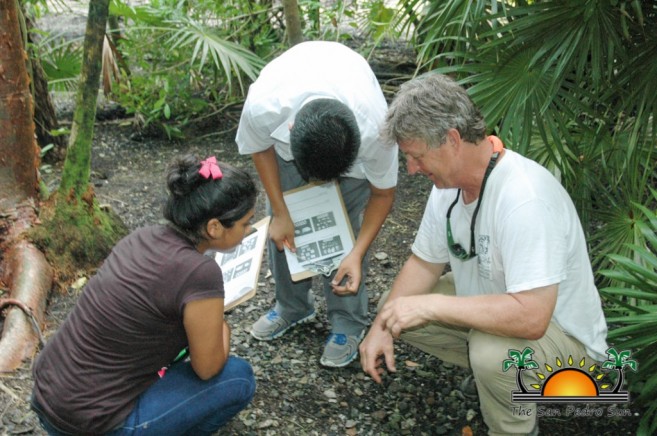 While Marco Gonzalez does not have large structures like those on mainland Belize, Dr Simmons explained that the students are still excited because they get to pick up pieces of stone pieces, pot shards, net sinkers, old fish bones and even obsidian. "Sites like Marco Gonzalez were trading centers that were involved in commercial activities, and the students get to understand how Marco Gonzalez was interconnected with all the big cities along the Yucatan Peninsula, Belize and even Honduras. For example, they get to appreciate and understand how sea shells ended up all the way to large Maya cities located in the mainland areas – simply because of the trading activities in sites such as Marco Gonzalez," detailed Simmons.

At the research laboratory, the students got to review some of their observations and shared their experiences with their colleagues. While the young students were aware of the site, for many, it was their first time at Marco Gonzalez.
Follow The San Pedro Sun News on Twitter, become a fan on Facebook. Stay updated via RSS