Health support tuk-tuks on the island but still not in use
Monday, June 2nd, 2014
On April 14th, 26 small three-wheeled motorcycle-type mobiles, widely referred to as Tuk-Tuk (motorized rickshaws) were donated by Dubai, United Arab Emirates to the Government of Belize. Three of the tuk-tuks were sent to Ambergris Caye to be used at the Dr Otto Rodriguez San Pedro PolyClinic II. They have has been on the island for over a month, but the tuk-tuks have still not been put to use. The health facility officials told The San Pedro Sun on May 28th that none of the three mobiles have reached the hands of the administration of the island's public health facility.
The health support vehicles, as being referred to by the Ministry of Health, are equipped with an attached covered unit, fitted with seating and a stretcher to transport patients. While the vehicles are not intended to be used as a replacement for conventional ambulances, it is geared to be used to transport patients to access healthcare services. It is also intended to be used for coordinated assistance with other partners at health promotion events, social events for mobile clinics and home visits.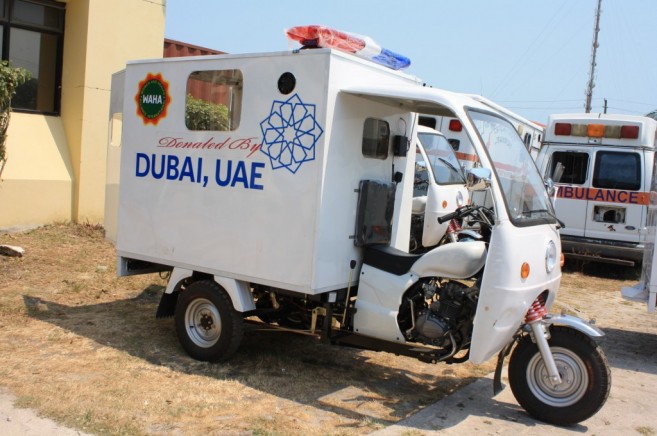 Administrator of the PolyClinic Owen Vellos confirmed to The San Pedro Sun that while he has been notified of the donation and has even seen them on the island, they have not been formally handed over to the clinic. Vellos explained that it was recommended that the three tuk-tuks be given an oil bath before they are commissioned for use, but that has been over a month ago. Since then, the tuk-tuks have been sitting at the San Pedro Town Council barracks.
According to Vellos, he inquired about it to the Mayor of San Pedro Town Daniel Guerrero, but was told that an official handing over will be made. Vellos said that the handing over will be done by Hon. Manuel Heredia, the Area Representative and Minister of Tourism, who currently has the keys to the tuk-tuks.
When The San Pedro Sun consulted with a mechanic on the price and time it takes for a new golf cart, (the size of a tuk-tuk) to get an oil bath, the mechanic said that it normally costs $25 and would not take more than 1 ½ hours. No one at the PolyClinic was certain when the tuk-tuks will be handed over to them.
Follow The San Pedro Sun News on Twitter, become a fan on Facebook. Stay updated via RSS