San Pedro Celebrates World No Tobacco Day
Friday, June 6th, 2014
Saturday, May 31st was observed as World No Tobacco Day under the theme "Raise Tobacco Tax, Lower Death and Disease". To celebrate the event in San Pedro Town, The National Drug Abuse Control Council (NDACC) in collaboration with the San Pedro Town Council (SPTC) and the San Pedro Alcohol and Drug Abuse Institute (SPADAI) held a Sports and Information Day at the Honorable Louis Sylvester Sporting Arena. The purpose was to raise awareness on the negative effects tobacco has on a community, and overseeing the event was Kristina Romero, NDACC representative in San Pedro.
A small football competition was held to engage the children in alternative means of entertainment. "Sports are a good way to keep children busy and out of trouble. If children are kept busy then they are more likely to stay away from tobacco, alcohol and drugs," said Romero. Trophies were awarded to the teams that placed first and second, while consolation prizes were given to all participants.

The event also saw representatives of SPADAI showcasing information on how individuals can receive assistance for various addictions. NDACC provided information solely on tobacco, which includes chewing tobacco, cigarettes, cigars, hookahs, second hand smoke, and third hand smoke. The crowd was engaged with games such as word finds, cross word puzzles and balloon games for the children. Also supporting the event was the San Pedro Police Department and Footprints of Peace, who were recruiting members for the Citizens on Patrol initiative.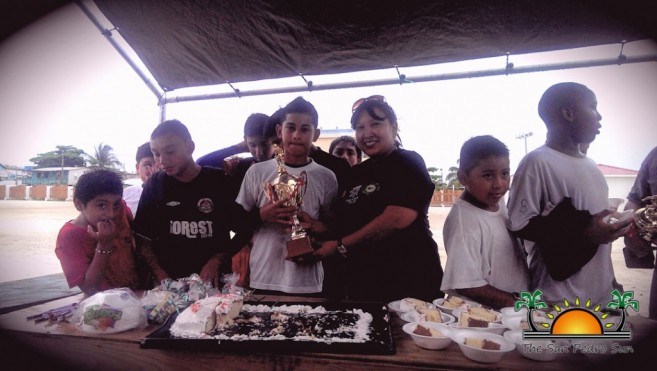 Special thanks goes out to Mayor Daniel Guerrero and Councilor Wally Nuñez for their support throughout the two weeks of activities leading to World No Tobacco Day, as well as Officer in Charge Luis Castellanos, the San Pedro Police Department, Councilor Gabriel "Gaby" Nuñez, Lucy Muñoz, Freddy Gonzalez Jr., SPADAI, Rafael Torres, Monica Prevett, Omar Arceo, SPTC, The San Pedro Sun and all other individuals who helped make World No Tobacco Day 2014 a success.
About the 2014 theme
The theme of the 2014 World No Tobacco Day aims to provide a solution for tobacco abuse. According the World Health Organization (WHO)Framework Convention on Tobacco Control raising taxes on tobacco is both the most effective and cost-effective way of reducing tobacco use around the world. Countries should implement tax and price policies on tobacco products as a way to reduce tobacco consumption according to WHO.Tobacco use is the single most preventable cause of death globally.
Follow The San Pedro Sun News on Twitter, become a fan on Facebook. Stay updated via RSS