PAHO/WHO calls for stepped-up efforts to detect and treat people with TB/HIV coinfections
Monday, June 9th, 2014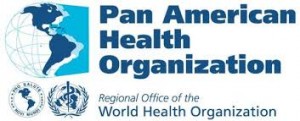 In the Americas, more than 1 in 10 tuberculosis patients have HIV, and TB is a leading cause of death for people with HIV
Washington, D.C., 4 June 2014 (PAHO/WHO) — Despite progress by countries of the Americas in reducing illness and deaths from tuberculosis (TB) and HIV in recent decades, 280,000 new TB cases and 98,000 new HIV cases were reported in the region in 2012.
The Pan American Health Organization/World Health Organization (PAHOWHO) recently brought together the heads of national HIV and TB programs from 27 countries of the Americas to analyze the situation of TB/HIV infections and discuss ways of integrating health services to expand diagnosis and treatment of both diseases.
"Tuberculosis and HIV have been and continue to be major health problems worldwide," said Massimo Ghidinelli, head of PAHO/WHO's HIV, Hepatitis, Tuberculosis and Sexually Transmitted Infections unit. "People with both conditions are treated in different health services, making it hard to provide them with comprehensive care."
Globally, TB is the most common infection and the leading cause of death among people with HIV, who are 20 times more likely to develop TB than those without HIV. PAHO/WHO recommends stepped-up efforts to identify TB infections among people with HIV, expanded treatment with isoniazide to prevent TB, and infection control to reduce the spread of TB in this population.
Among countries in the Americas that report data on both diseases, 57% of patients diagnosed with TB (20,800) were tested for HIV in 2012. Of these, 16% tested positive, and 77% of them began antiretroviral treatment. The proportion of TB patients tested for HIV increased by 14 percentage points between 2007 and 2012 (from 43% to 57%), however, there is still a gap in detecting HIV among people with TB.
"When patients with TB receive their diagnosis, they should also be offered an HIV test," said Mirtha del Granado, PAHO/WHO Regional Advisor on Tuberculosis. "Anyone with HIV should be screened for TB, and if they are not infected with TB they can get preventive therapy with isoniazide."
In 2012, just 10 countries in the Americas accounted for 94% of estimated cases of TB/HIV coinfection: Brazil, Haiti, Mexico, Colombia, Guatemala, Venezuela, Ecuador, the Dominican Republic, Peru and the United States. In descending order, the countries with the highest estimated incidence of TB/HIV coinfections were Haiti, Guyana, Guatemala, St. Vincent and the Grenadines, Suriname, Belize, Brazil, Trinidad and Tobago, Panama and Ecuador.
"More collaboration between HIV and TB programs could reduce the burden of TB among people with HIV, reduce the burden of HIV among TB patients and reduce deaths associated with both diseases," said Ghidinelli.
Participants in last week's meeting agreed to better integrate HIV and TB services and improve care for people with coinfections, for example, by offering HIV testing in all TB services at the primary care level, gradually incorporating antiretroviral treatment in these services, and improving referrals and counter-referrals between TB and HIV services for patients who need them.
The 8th Regional TB/HIV Meeting took place during the Regional Meeting of Heads of National TB Control Programs and the first Latin American and Caribbean Forum on the Continuum of HIV Care, organized by PAHO/WHO, UNAIDS and other partners.
TB/HIV in numbers
61% reduction in TB mortality in the Americas between 1990 and 2012
62% decline in TB prevalence in the Americas between 1990 and 2012.
280,000 estimated new TB cases in the Americas in 2012, of which 219,000 (79%) were actually reported.
1.8 million people living with HIV and 98,000 new infections in Latin America and the Caribbean in 2012.
20,800 new cases of TB/HIV coinfections reported in the region in 2012. But PAHO/WHO estimates an additional 10,200 undiagnosed cases, for a total estimated 31,000 TB/HIV coinfections
57% of diagnosed TB cases in 2012 had access to HIV testing
16% of TB cases tested for HIV were positive
77% of patients with TB/HIV coinfections received antiretroviral treatment in 2012
11.4 cases per 100,000 inhabitants is the estimated incidence of TB/HIV in the Americas, the second-highest regional rate after Africa
Follow The San Pedro Sun News on Twitter, become a fan on Facebook. Stay updated via RSS