San Pedro Celebrates High School Graduation Ceremonies
Monday, June 16th, 2014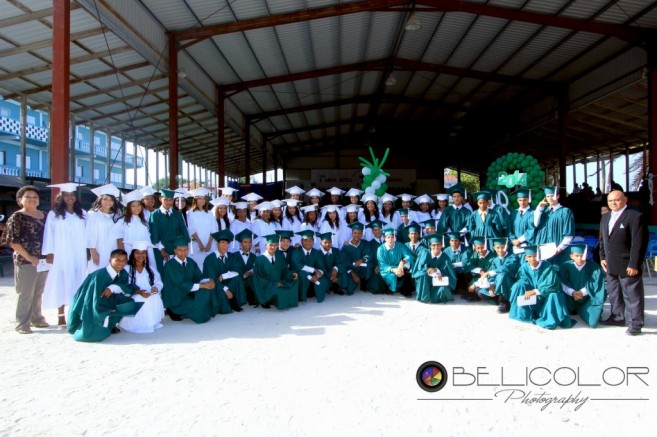 It was a weekend of caps, gowns and diplomas, as the two secondary institutions on the island celebrated their High School Commencement Exercises.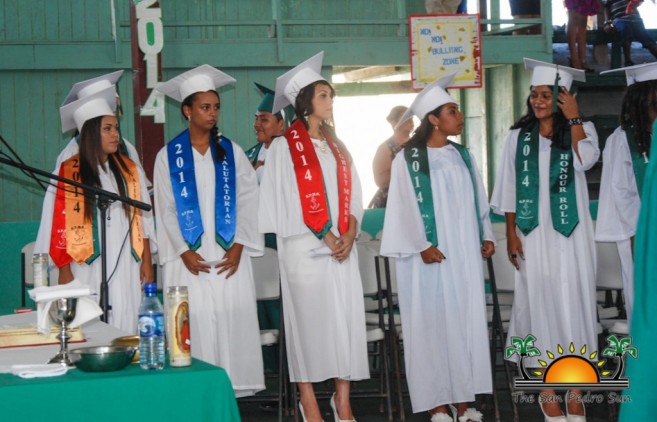 The 2014 San Pedro High School (SPHS) graduation ceremony was held on Saturday, June 14th at the Angel Nuñez Auditorium starting at 4PM. Mistresses of Ceremonies, and fellow graduates, Alisha Cadle and Vivian Noralez presided over the event in which 64 students received their high school diplomas in front of family and friends. After the class's rendition of Miley Cyrus' and Emily Osment's "Wherever I Go", Mahe Pereira delivered the salutatory address. The main speaker of the night was Vilma Villanueva, English teacher at SPHS. The ceremony continued with the valedictory address given by Jasmine Ritchie. The traditional rose ceremony was led by Doris Soriano, while the candle light ceremony was led by Geovanna Carrillo and Ilan Gonzalez. Emil Vasquez addressed, the graduates challenging them to reach for their dreams and never give up. The ceremony ended with the Vote of Thanks given by Gian Rivero.
The SPHS Class of 2014: Francisco Badilla*, Marvin Bonilla, Rebeca Bustamante*, Geovanna Carillo*, Jesus Castillo, Zenny Castillo*, Eduardo Diaz*, Arlethe Lima, Rosalie Longsworth, Kelsey Luna*, Sophia Miglio*, Vivian NOralez*, Mahe Pereira*, Retna Quixchan, Jasmine Ritchie* (Valedictorian), Gian Rivero*, Sergio Rivero*, Marlon Santos*, Gianni Zaldivar, Josue Zometa*, Victor Ake, Isloene Bailey*, Jorge Balam*, Pablo Barboza*, Giselle Blanco, Giseli Brown* (Highest Marks), Alisha Cadle*, Deisy Caliz, Noel Caliz, Cesar Cordova, Amari Duncan*, Israel Duque*, Ilan Gonzalez*, Julius Gonzalez, Janellie Gutierrez*, Mailu Lara*, Amir Marin*, Jessica Pinelo*, Candy Ramos*, Angie Rivas, Alexis Roca*, Gia Rodriguez, Doris Soriano* (Highest Marks), Shaniel Soriano, Antonio Tepaz, David Verralls*, Jose Villamil*, Eugene Bowen, Flavio Montejo, Alex Roache, Pedro Ayuso*, Kristian Caliz, Kyle Crimmins, Brianna Leslie, Julisa Magana*, Emilse Marin*, Alyssa Muñoz, Brandon Ramirez, Kimberly Reyes, Justin Ritchie, Vivel Rodriguez, Antonio Soliz* (Highest Marks), Janelle Tillett, and Kathlynn Tzib.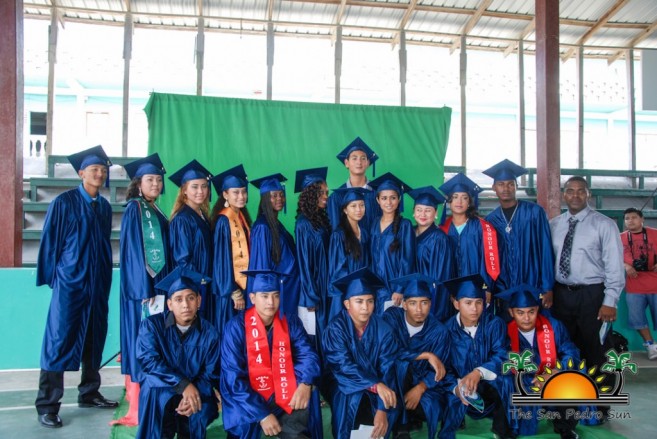 The Graduation ceremony for San Pedro Adult Continuing Education (SPACE) was held on Sunday, June 15th at the Angel Nuñez Auditorium at 10AM. SPACE is the high school night division managed by the San Pedro Junior College and has been in operation for two years. This year, SPACE graduated a class of 21 students. Master of Ceremonies Alex Noralez led the ceremony as family and friends joined the graduates in their crowning moment. Josselyn Briceño delivered the salutatory address, followed by an inspiring speech by guest speaker, Candy Armstrong. Valedictorian for the class of 2014 was Johayra Eiley, while the Vote of Thanks was given by Zoila Canek. After the class's rendition of "Time of our Lives" by Tyrone Wells, the graduates received their well-earned diplomas.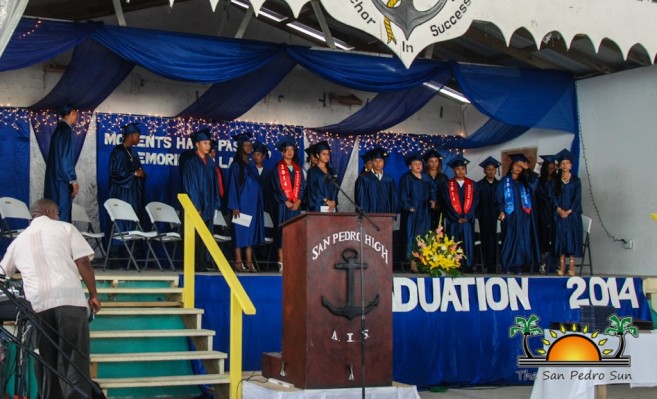 The SPACE Class of 2014: Aline Rodriguez, Zoila Canek*, Jose Koh*, Ghislaine Ojeda, Solomon Cucul, Naiely Puc*, Lilian Kuylen, Emelie Cerpa*, Miriam Palacio, Jay Eiley, Cindy Valentine, Romel Tzib, Elma Gonzalez, Johayra Eiley* (Valedictorian), Luis Duran, Josselyn Briceño*, Lionel Cornejo, Luis Herrera, Carl Paz*, Ason Mcfield, and Luis Toriz.
Congratulations to all graduates!
*- Honor Roll Students
Follow The San Pedro Sun News on Twitter, become a fan on Facebook. Stay updated via RSS