San Pedro welcomes New Deputy of Police Henry Jemmott
Friday, June 27th, 2014
Senior Officer Henry Jemmott is the new Deputy of the Belize Police Department Coastal executive Unit, in charge of Ambergris Caye and Caye Caulker. Deputy Jemmott has 16 years of experience and is looking forward to working with the community to improve the islands' safety.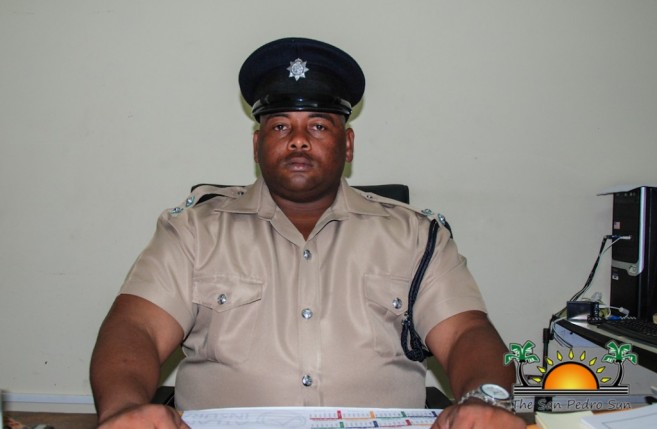 Originally from Dangriga, Deputy Jemmott most recently served three years at the Violent Criminals Apprehension Program (VCAP) in the Investigation Branch of the Belize City Police Unit. He also has 13 years of working in the special patrol unit. Deputy Jemmott promotes exceptional customer relations and believes all officers should behave with discipline, honor and respect. "I want to change the image and the present perception between the community and the police. We need to inform the public that the police are here to render a service and have the community reassured that San Pedro will be a safer place for the residence and visitors," said Deputy Jemmott.
One of Deputy Jemmott's goals is to work along with Officer in Charge, Luis Castellanos in reducing crime in the island. "From what I have read and observed, there was a spike in crime, hence the decision was made to send me to assist with the situation. So far we have ongoing operations, both joint with the San Pedro Quick Response Team (QRT) and Belize City QRT. Our efforts have been fruitful in that we have reduced shooting incidents, increased response time to reports made and we have made a significant amount of arrest as it pertains to drugs," said Deputy Jemmott. He also aims to involve the community more with police. "Another of my goals is to focus more in community policing and to revamp the volunteer special constable (program) so as to give the public value in the policing matters. Also I have intentions to revamp neighborhood watches for different areas, especially areas of concern like San Mateo, San Juan, San Pedrito and DFC."
Deputy Jemmott enjoys fishing and is looking forward to learning and enjoy everything San Pedro has to offer. We welcome Deputy Jemmott, and hope his term on duty is a productive and pleasant one!
Follow The San Pedro Sun News on Twitter, become a fan on Facebook. Stay updated via RSS