UPDATE: Massive fire leaves 66 homeless in San Pedro Town
Monday, July 7th, 2014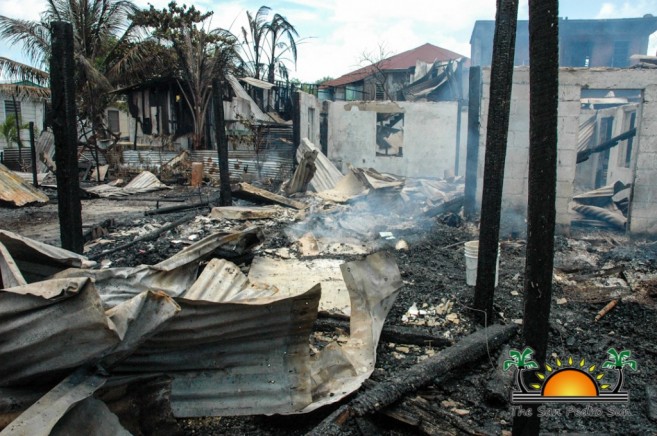 A devastating fire in San Pedro Town has destroyed nine buildings leaving 66 people homeless. The fire started around 8:30PM on Sunday July 5th on Conch Shell Street in the Boca del Rio area of San Pedro Town. On Monday July 6th investigators and fire officials revisited the fire scene where they went over the rubble to establish the cause of the fire.
Neighbors and witnesses called The San Pedro Sun about the fire around 8:30 PM when the first structure was fully engulfed in flames. The official reports from both police and fire officials indicated that they were alerted about the fire around 8:45PM. According to Phillip Mencias, Officer in Charge at the San Pedro Fire Department, they were alerted by police of a house fire in the northern side of San Pedro Town. "At about 8:43PM police came over to the station to report a fire on Conch Shell Street in the Boca del Rio Area. We immediately dispatched one vehicle and on arrival we saw that a two-story building, upper wooden and lower concrete, was completely engulfed in flames. We immediately got into operation and 15 minutes later we dispatched the second truck. We only have two firefighters on a given shift so it took us some time to get to the fire station to dispatch a second truck. It took over an hour and fifteen minutes to bring the fire under control. Due to radiation – the close proximity of the building and the wind that was blowing hard, the fire spread quickly," explained Mencias.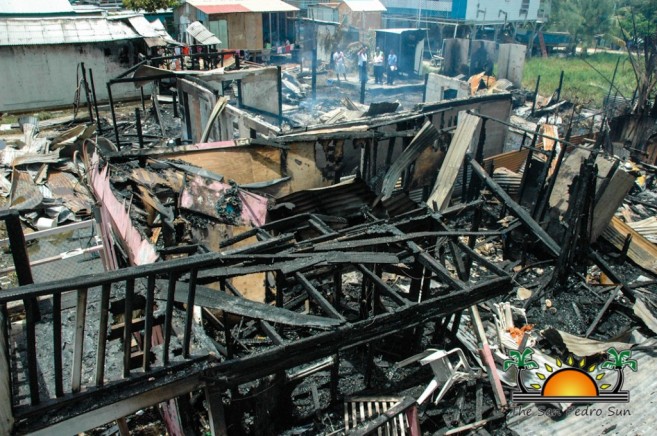 A total of nine buildings received fire and water damages; seven small wooden structures were completely destroyed, including a concrete and wood two storey building and one fully concrete two storey building. According to Mencias, the flames started inside a two-storey building belonging to Ruben Gonzalez and rented to Lisber Bardalez.
Bardalez told The San Pedro Sun that she noticed smoke coming from her son's room and when she went to look, flames were coming from inside. "When I opened his room door, I saw fire. When I saw that, I went to wake up my husband. In the processes, I lost my three-year-old baby. I found him in the building and I was about to throw him over the verandah but instead ran down to hand him over to a neighbor. I was screaming for help and just a few people came, everyone was just looking at how the building started to burn. I had to beg for help to get my mother, who can't walk, out of the building," said Lisber Bardalez.
One of the first people to help Bardalez was Joe Hernandez. He was a neighbor who was in the process of washing his clothes when he saw his neighbor's house on fire from a distance. "When I went to see, I saw fire coming out from one of the back windows of the two-story building. We began alerting the other neighbors, but everyone got scared and ran. We try to help putting out the fire with a hose but it began spreading. I ran to my house and began wetting my house, but the fire still ended up burning my house," said Hernandez. The fire quickly spread and consumed seven buildings and damaged two other structures, including three buildings in Hernandez's property.
According to Joe's mother, Edita Hernandez, who also lived in a concrete structure next to her son, all that she was able to salvage was a suitcase of clothes. "I lost everything in the fire. It is heartbreaking and we are destroyed, I am sad," said a very emotional Edita Hernadez. She added that fire officials were confused because of the chaos, which affected their performance in fighting the fire. "We think that fire officials could have saved our property. The firemen were fighting the fire from the opposite direction from the wind. They started outing the fire on the structure beside by property and after they ran out of water, they began fighting the fire on the other side of the building from where the fire started," said Hernandez.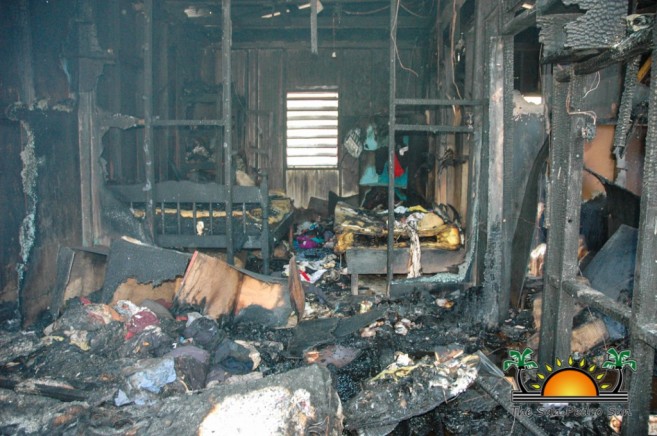 In response to allegations made against the fire officials that they arrived almost 20 minutes after the fire and that they were not prepared to fight such a large fire, Mencias said their staff is small and can only work with what they have. "Its two men on a shift and so when there is a fire, we have to respond first with who we have on shift and then wait until the others come in. For example it took me 15 minutes to get to the fire station. In addition, we had people (onlookers) driving their carts over our hose and with the sharp hardcore on the street, it burst our hose, making it more challenging for us."
Assessing the fire were members of the Belize Red Cross, the National Emergency Management Organization (NEMO) and the San Pedro Town Council. According to Deputy Chairman of NEMO – San Pedro Branch and Mayor of San Pedro Town, Daniel Guerrero, they will be concentrating efforts in cleaning and rebuilding. "The most important thing right now is to get shelter, food and some financial help to the families. The San Pedro Town Council is assisting with shelter and food for those in need at this time. We will also be helping each family with a small financial donation. NEMO is also assessing the damages to facilitate help for those in need and the Red Cross organization is doing likewise. Once the investigation is over, the San Pedro Town Council will clear the areas so that the re-building process can start. We will try to get all the organizations together to do a massive fundraiser for the fire victims. We are a community that knows to come together in such a time and we know that the community will respond generously," commented Mayor Guerrero.
The fire affected 66 people from 16 different families, including 32 minors below the age of 17. During the fire, two people received injuries; a male who sustained a broken hand after a house beam fell on him during the fire and a one-month old child who had difficulty breathing from the smoke and heat. They were both treated and released from the Dr. Otto Rodriguez San Pedro PolyClinic II.
According to both San Pedro Police and the San Pedro Fire Department, their investigations continue to determine the cause of fire. The total estimated loss has not yet been calculated, but is expected to be above $2 million. None of the nine buildings were insured.
To find out more on how you can help the fire victims, you can contact the following people: Jeromey Tim-rose Augustine (NEMO) at (501) 600-8672, Laurie Norton (Red Cross – San Pedro Branch) at (501) 600-0837 and Lorna Vasquez at the San Pedro Town Council at (501) 226-2198 or (501) 226-2788.
Follow The San Pedro Sun News on Twitter, become a fan on Facebook. Stay updated via RSS