Police Report: Caye Caulker resident charged with Rape
Wednesday, August 13th, 2014
On Saturday 9th August, 2014 at about 5:50 a British national tourist who was staying at Caye Caulker Village on vacation from United Kingdom, England visited the Caye Caulker Police station and reported that on Saturday 9th August, 2014 shortly after midnight she and six tourist friends left a private island at Caye Caulker Village en route to San Pedro Town in a skiff driven by one Captain Pops.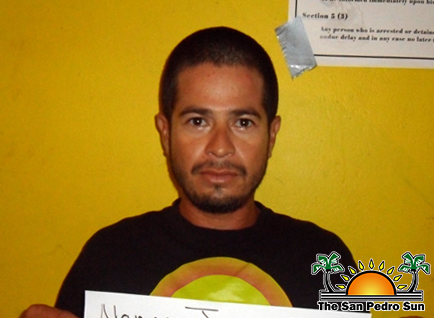 Complainant stated that the said Pops had taken them on a day tour on Friday 8th August, 2014 and thereafter they went to a private Island where they had a party and they consumed alcoholic beverages. Complainant stated that upon their arrival at San Pedro Town at about 1:00am the Captain parked the skiff near a pier but she along with a male tourist and the Captain remained inside the boat as she felt sick. The other tourists left the skiff and went within San Pedro Town. Complainant stated that shortly after the male tourist went unconscious due to alcohol consumption or drugs and that is when Captain Pops approached her and assaulted her sexually. A struggle ensued between them and as a result "Pops" had sexual intercourse with her against her will inside the boat. She had multiple scratches and bruises all over her body and complained of pain to her lower abdomen.
In respect of the report made statements were recorded, the boat was processed and photographed. On Saturday 9th August, 2014, the British female National tourist was escorted to Belize City Karl Heusner Memorial Hospital accompanied by a female Police officer from Caye Caulker Police for medical examination to be conducted on her.The medical examination was conducted by Doctor Jose Guerra and at the conclusion of the examination; Dr. Guerra certified that the patient had been carnally known. On Saturday 9th August, 2014 30 year old Jaime Rosado aka POPS  D.O.B. 16/01/84  Belizean tour guide of Travellers Palm street, Caye Caulker Village was detained pending investigation for the crime of Rape.
On Sunday 10th August, 2014 Jaime Rosado was formally arrested and charged for the crime of Rape. On Monday 11th August, 2014 Jaime Rosado was escorted to Belize City Magistrate court where he was arraigned and was granted court bail.
Follow The San Pedro Sun News on Twitter, become a fan on Facebook. Stay updated via RSS