Armed Guatemalans threaten to destroy conservation post in Belize; PM reacts
Thursday, October 9th, 2014
Tension is increasing between Guatemalan civilians and members of the Belize Defense Force (BDF). On Friday October 3rd, a group of about 40 Guatemalans, armed with rifles, shotguns and machetes barged into Belize's territory and engaged with five members of the BDF. The illegal civilians threatened to burn down a conservation post that is under construction in the area of Valentin Camp located inside the Caracol Archeological site and one kilometer from the Belize Guatemala border.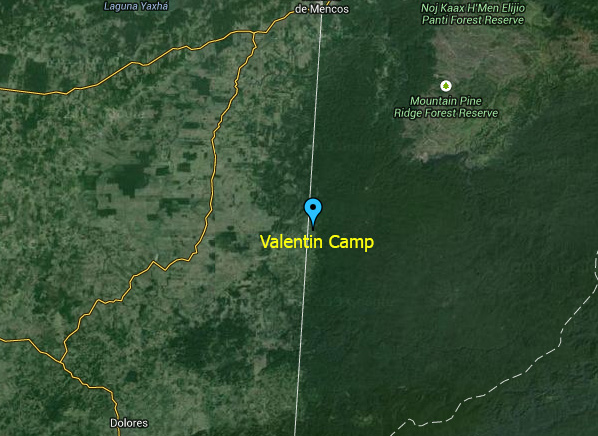 A government press release dated September 3rd outlined the incident and indicated that the BDF members stood their grounds and after very tense verbal engagement, the Guatemalans retreated and returned to their country. "The BDF has since quickly deployed re-enforcement and is firmly and completely in control of the area, and construction of the conservation post continues." The conservation post is one of three that are being built to discourage illegal activity and help protect the Chiquibul National Park from Guatemalans who have been destroying the natural resources. The engagement is also at the heel of the death of Special Constable Danny Cornorquie.
"Our Foreign Ministry has communicated to Guatemalan authorities our outrage at this blatant armed incursion by Guatemalan civilians. Both Guatemalan and Organization of American States officials have been dispatched to the Guatemalan village to try to de-escalate tensions in an area well known for lawless behavior. Guatemalan authorities have been asked to do all in their power to dissuade civilians from any further such actions as the Belize military will carry out its mandate to protect the sovereignty and territorial integrity of Belize," explained the release.
Prime Minister of Belize Dean Barrow spoke of the latest actions by the Guatemalans. "So really it is outrageous that not only do they come across and do the horrible damage that they do to our resources, but that when now we seek to construct an outpost to help us to better patrol and protect our national territory, that they should be so facey as to think that they can prevent us from so doing. Well that's not going to happen. The BDF will do what it has to do, but really, I think it is high time that the Guatemalan authorities step up and discharge their responsibility."
PM Barrow said that Belize is also alerting the international community about the latest incursion. The government is using diplomatic efforts to inform the international community about the continuous aggression by Guatemalan civilians in the event that the military has to respond with appropriate force.
The construction of the Valentin conservation post, as well as two other new conservation posts, continues as planned.
Follow The San Pedro Sun News on Twitter, become a fan on Facebook. Stay updated via RSS