Holiday Lighted Boat Parade returns with brighter vessels
Wednesday, December 10th, 2014
The Holiday Lighted Boat Parade returned on Saturday, December 6th with even more elaborate, brightly lit boats. After missing last year due to low participation, it was back in full force. Residents and visitors flocked to beaches and docks on the parade route to view the colorfully lit vessels as they made their way along Ambergris' shores. Organized by the San Pedro Business Association (SPBA), this year's parade saw the participation of ten boats, all uniquely decorated. It was the perfect way to kick off the holiday season on the island!

The parade started shortly after 6PM from Wayo's Beachside Beernet. All ten boats lined up, shining brightly on the water as they started to make their way south along the designated route. Spectators enjoyed the view, taking in the fun details on the boats. There came a bull shark! There went a sea serpent! At the municipal dock, the boats made a 360 turn, allowing the judges to take a closer look before tallying their votes (although frankly, they were all winners!). The parade then made its way down to Caribbean Villas before returning for the grand finale at Central Park, it was time for family fun, with lots to eat, drink and even shop! Children had the chance to take their picture with Santa Claus at the Saga Humane Society booth, which was great fun.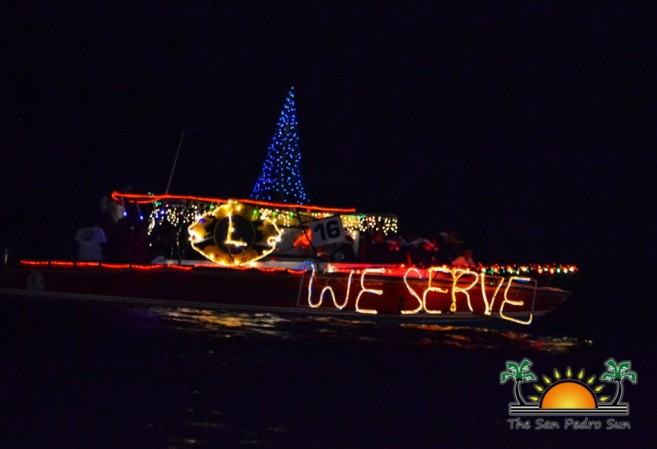 After all the excitement, it was time to announce the winners of the parade. Taking the first place prize was Blue Water Grill. Second place went to Isla Bonita Elementary, while The Phoenix Resort took third place. The San Pedro Lions Club was the proud recipient of the Minister's Trophy and the San Pedro Red Cross took home the Mayor's Trophy. Certificates of participation as well as great prizes were awarded to every single vessel.

Congratulations to all the winners and participants. SPBA takes the opportunity to thank all those individuals and businesses that made Holiday Boat Parade a success: Fido's Courtyard, Estel's Dine by the Sea, The Palms, Tropic Air, Foreva Fancy, Chuck and Robbie's, Jambel's Jerk Pit, Graniel's Dreamland, Quality Poultry Products, El Sazon, J&H Golfcat Rentals, Traveller's Liquors, Spice It Up, Belicolor, Belizean Breezes, Exotic Caye Resort, Rick's Custom Carts, The Baker, Caribbean Villas, Sunrise Realty, Quicksilver Messaging Service, TMM Yacht Charters, Cholo's Golfcart Rentals, Sandy Toes, Caye Management, Ambergris Seaside Real Estate, Lola's Pub, Seaduced by Belize, Don Teichroeb, Honorable Manuel Heredia Jr., Wayo's Beachside Beernet, Mata Chica Resort, The San Pedo Sun, 12 Production Belize, San Pedro Lions Club, San Pedro Red Cross, San Pedro High School- class of 3E, Isla Bonita Elementary, Saga Humane Society, Camp Starfish, Reef TV, Randy Engelsman, The Phoenix Resort, Blue Water Grill, San Pedro Sailing Club, and Miss America .
Follow The San Pedro Sun News on Twitter, become a fan on Facebook. Stay updated via RSS