Amigos del Mar Responds to Allegations
Wednesday, December 24th, 2014
Press Release – Amigos del Mar- December 17, 2014 – Anyone familiar with diving in Belize knows the name Amigos del Mar, fondly known as simply 'Amigos'. For over twenty five years Amigos have operated one of the premiere diving companies in Belize and as such have played an essential role in building the reputation of Ambergris Caye and Belize as a top dive destination. Amigos is well known for having the highest standards for safety and divers return year after year to dive with them. This has been good for resorts and for tourism.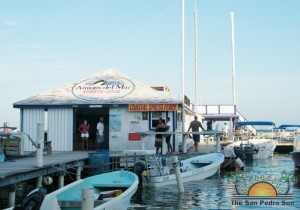 There is a saying 'when the going gets tough, the tough get going' and now it's Amigos' turn to get going. In May of this year there was an allegation of sexual assault made against Gerson Cordon, who was studying to be a Dive Master under the tutelage of independent Diving Instructor Marciano Mendez. The allegation involves a female student, who was undertaking a private course of instruction with Mr. Mendez. Neither student was a customer of Amigos del Mar, nor was Amigos del Mar receiving any money for their training. Mr. Mendez was paid directly. Many independent diving instructors use the Amigos dock and rent equipment from them.
The allegation of sexual assault was, quite correctly, reported to the police and is currently going through the court process. Amigos del Mar would like to make it absolutely clear that they do not tolerate sexual harassment of any kind and would terminate any employee found guilty of such a crime. Mr. Cordon is not employed by Amigos del Mar. Mr. Mendez nor Mr. Cordon are or ever have been employees of Amigos del Mar, though Mr. Mendez, as a freelancer has worked for Amigos del Mar as well as many other diving companies in Belize. Mr. Cordon is a partner of and operates Amigos Jungle Tours Ltd., which is also located on the pier used by several other businesses including, but not limited to a massage parlor, a water taxi and a marina.
A very aggressive case was presented to PADI by the complainants which, unfortunately, included additional false information such as the suggestion that Amigos del Mar were financing the legal defence for Mr. Cordon, which is absolutely untrue. PADI moved forward with the case against Amigos del Mar without looking into detailed explanations provided to them regarding these allegations. While Amigos del Mar are appealing this vigorously, the resulting bad publicity, much of it based on rumours, has been very damaging to this well established and much loved San Pedrano owned business – a business that had absolutely nothing to do with this incident.
Mr. 'Changa' Paz is a respected and valued member of the community. His reputation and the reputation of Amigos del Mar are of the utmost concern to him, as is the welfare of his staff and divers. Mr. Paz says, 'All of us at Amigos del Mar look forward to 2015 and going from strength to strength. We will continue to provide the best and safest diving standards and intend to raise the bar even higher. We continue to work proudly with Scuba Schools International (SSI) one of the most reputable diver certification bodies in the world and Scuba Diving International (SDI), which is hugely reputable as the recreational arm of the largest technical diver training organization in the world. This means that divers and students can rest assured that they will receive internationally recognised and top notch certification with us. In the meantime, we are working with PADI to resolve this issue and have every confidence that we will once again be working with them also. We will be keeping the public fully informed of this process and ask you to join us in keeping San Pedro the place for one of the best and safest diving adventures.'
Amigos will be reaching out to the business community to develop stronger working relationships to benefit the whole diving industry. So, watch this space as Amigos del Mar moves forward.
END
For more information please contact Jose Vivas, Manager at Amigos del Mar on 226 2706.
Follow The San Pedro Sun News on Twitter, become a fan on Facebook. Stay updated via RSS