European rocket wreckage found in the waters near Ambergris Caye.
Monday, February 9th, 2015
The
Belize National Coast Guard and the Belize Civil Aviation Authority are confirming that two parts of wreckage found floating off Ambergris Caye appear to be that of a European rocket. The parts were discovered near the reef, less than a mile away from San Pedro Town late on the evening of Saturday February 7th.  The Belize Coast Guard confirmed that a team of divers were taken to the area to see if additional information could be recovered. However, late on Monday February 9th they confirmed that it is highly possible that the remnants are part of a rocket that was launched sometime in 2014.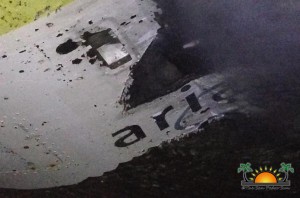 According to a Coast Guard official, they were notified by San Pedro Police about the floating debris, which police initially believed to be from an aircraft. A Coast Guard patrol visited the location near the Tres Cocos Area where they recovered two pieces of metal consistent with a rocket. The wreckage was then taken to the Forward Operation Base on Ambergris Caye where authorities conducted their investigation.
The Belize Civil Aviation Authority were notified and initially confirmed that there was no distresses calls placed to aviation authorities in Belize. In addition, the parts presumed to be of an airplane was not believed to be from Belize but from a European country based on the flag located on parts of the wreckage.
Authorities confirmed that the parts found were consistent with those from the European Ariane Galileo ESA rocket. In 2014, the company released two rockets and it is customary for fragments or parts of the rocket to come off when coming into contact with space.
It is unknown how long the remnants have been adrift in our area.
Follow The San Pedro Sun News on Twitter, become a fan on Facebook. Stay updated via RSS