Brother and Sisters Unite after 47 years
Monday, May 25th, 2015
"Dear Editor,
I am writing as I am looking for any family that I may have in Belize. My name is Raymond Willis Oliver. I live in England and was born in Newcastle Upon Tyne, England, to a woman named Dorothy Willis who was born on 2nd Feb 1941…Dorothy, Thaddeus, Juanita and Tanya went to Belize in 1968…"
That was the email that started it all: a brother from England hoping to connect with his sisters after they were separated 47 years ago. He wrote to The San Pedro Sun, and in turn we printed the letter and even posted it online on our popular Facebook page. As we all know, everyone knows someone in Belize, and within a DAY, he had already gotten a response! First, one of Juanita's step-nieces was alerted through the Facebook post, and then the printed version ended up in the hands of someone at Corozal Community College, where Tanya works. Thanks to the coconut wireless that is Belize communication, Raymond was alerted that his sisters were alive and well, and living in Belize. He excitedly wrote us back, indicating that he would be making a trip to Belize soon, and unite with his long-lost relatives.
According to Raymond, he's known of his sisters' existence since he was 18, which is when the state released information to him. He had been left in hospital by his mother Dorothy Willis, and he was placed into foster care, eventually being raised by his foster parents. Upon turning 18, he tried to find out more about his sisters, but was told that the information he had was too little to go by.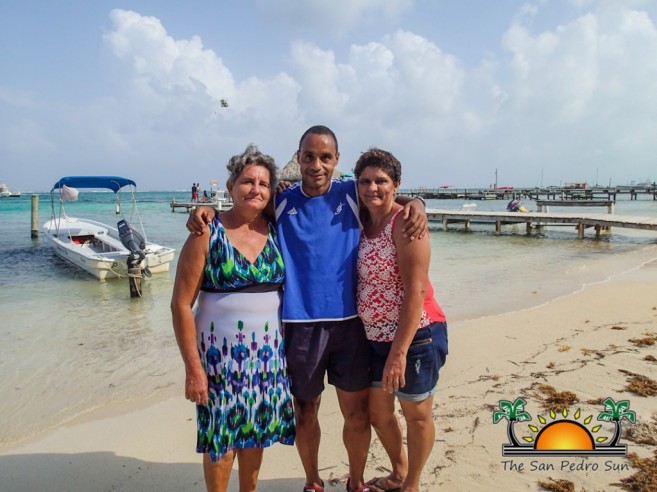 Raymond has traveled extensively, having visited 49 countries around the world. Wanting to explore Belize, which he felt was part of his history, he decided to reach out and see if he could connect with his sisters whilst visiting. He had not given up in finding his family, despite no results in England, so he decided to try once again, and on January 12, 2015, he sent that fateful email to The San Pedro Sun. The power of media came through, and he managed to contact Juanita Alcoser (nee Gillett) on January 15th, asking questions and confirming that indeed, he was speaking to his long-lost sister.
Plans were made and on April 25, 2015, the long-awaited union took place when Raymond touched down at the Belize International Airport and finally met Juanita and Tanya. "It was quite emotional…I may have cried for about five minutes," he said. On Saturday, May 9th, the siblings caught up with us on the beach in San Pedro, sharing their excitement and happiness at having finally united.
It was clear that they were already comfortable with each other, and hugs were being shared aplenty. In the face of the stories we've been printing the past few weeks, a happy ending like this is certainly cause for celebration. May Raymond, Juanita and Tanya share wonderful years ahead, bonding and celebrating their kinship.
Follow The San Pedro Sun News on Twitter, become a fan on Facebook. Stay updated via RSS