Danielle Neal Honored with Queen's Young Leader Award
Saturday, June 20th, 2015
A young Belizean student will be awarded the Queen's Young Leaders Award on Monday, June 22nd, at a ceremony in Buckingham Palace in London. Danielle Neal, originally from Belize City, is one of sixty young persons from across the Commonwealth Nations to be honoured with the award. The award recognizes young people between the ages of 18 and 29 who have been exceptional leaders in their community and taking the lead in transforming the lives of others. 18 year-old Neal has been recognized for her efforts to improve the lives of disadvantaged young girls and teenage mothers. She volunteers with Youth Enhancement Services and is the Public Relations Officer of the Youth Arm of the United Democratic Party (UDP).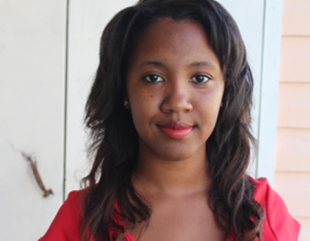 Prior to the award ceremony at Buckingham Palace, Neal and the other awardees will meet with British Prime Minister, David Cameron, followed by a visit to the headquarters of Global Social Networking Company, Twitter and meet with senior executives at the BBC World Service.
In a recent interview, Neal indicated that since the age of 14 she has worked tirelessly to help improve the lives of need single mothers. "The whole reason I do this is because I am from a single parent family and I understand how difficult it can be," explained Neal. "I feel lucky because my mother worked hard so I could have a good education. My point is that these young girls need to know that with an education, they can have a better life. This is what I always wanted to do and I can't see myself changing anything soon. I am only eighteen and after winning this award I believe everyone will start to notice what I do and listen to me. I feel like things are getting done, the message is getting out there, especially when other teenagers asked me what they have to do to get involved in similar programs like the ones I do," ended Neal.
After the ceremony on Monday, June 22nd, Neal along with the awardees will spend four days in the UK. During their stay they will take part in a residential development program, a series of workshops at Cambridge University, meetings with UK businesses leaders and visits to life changing social action projects.
Danielle Neal is one of the first ever recipients of a Queen's Young Leaders Award. The award will be presented by Her Majesty Queen Elizabeth the Second, as part of The Queen's Young Leaders Program, which celebrates the achievement of young people who are taking the lead to change the lives and make a lasting difference in their communities
Neal also works at the Ministry of Health in Belize City where she focuses on Mother and Child health while attending night school at the University of Belize (UB).
Follow The San Pedro Sun News on Twitter, become a fan on Facebook. Stay updated via RSS