Sewer Pump Lift Transfer Station Almost Completed
Saturday, June 27th, 2015
The Belize Water Service Limited (BWS) is on its last phase of completing construction of the Sewage Transfer Station on Bonefish Street at Boca del Rio area of San Pedro. The area has been labeled as Zone 1 and the Pump-lift Station will improve the quality of service for residents in the area when it comes to sewage treatment. This project will also reduce the risk of contamination to the water bed due to sewage seepage. Works on the building site started on August 2014 in a government owned parcel of land. The acquisition of this lot was possible through the efforts of The San Pedro Town Council (SPTC). The station will collect all waste material and pump it to the adjacent zone's sewer system.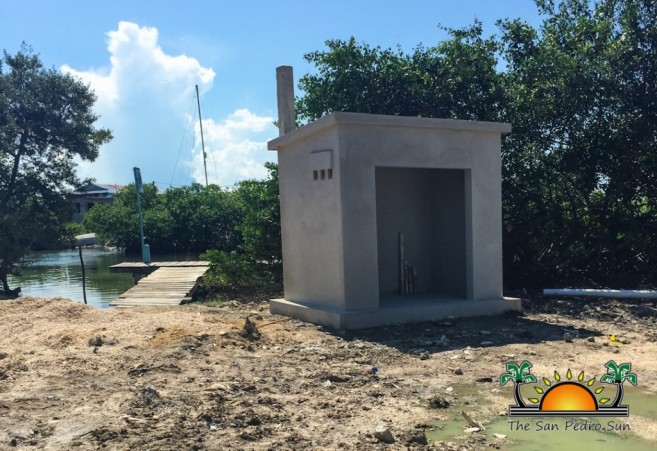 According to BWS, the scope of this project entails the installation of this new pumping station which will include inlet manholes connecting it to the existing sewage collection network. The installation of the pump is presently in an advanced stage, with the installation of all electrical connections coming up. The company again reiterated the benefit this project will have on residents of the area. The sewage waste will be more controlled, properly collected and dealt with and it will alleviate the stench secreted by the waste. Not to mention that with this improvement in the quality of sewage treatment, the local environment will be less prone to any hazardous waste leakage.
In a press release, BWS stated that once the sewer lift pumping station is completed, a survey will follow in order to determine how many residences and businesses will be connected to the station. This will come with a connection fee, which has yet to be revealed.
The release continued stating that at the beginning, the project was to be more expansive, with 1100 feet of gravity sewers and connected new customers; however, this portion of the project was removed to be completed at a later time (not specified as yet). The project has now been modified to include only 60 feet of gravity sewer to collect waste from the existing system.
The total cost of the project has an estimation of BZ$550,000 and this includes all material and labor. The estimated deadline for the completion of the project has now been extended to the end of July 2015.
Follow The San Pedro Sun News on Twitter, become a fan on Facebook. Stay updated via RSS