Police to enforce laws against public drinking and loitering
Friday, August 7th, 2015
The San Pedro Police Department will now be enforcing the law against public drinking. The warning was issued on Monday, August 3rd by the Commanding Officer of the Eastern Division South, Senior Superintendent Chester Williams. Since San Pedro Town and Caye Caulker Village form the Coastal Executive Unit, a precinct of the Eastern Division South, the warning is also subjected to residents and visitors in this area. By law anyone consuming alcoholic beverages in a public place is committing an offense. The department will also be enforcing the law against loitering and bicycle offenses.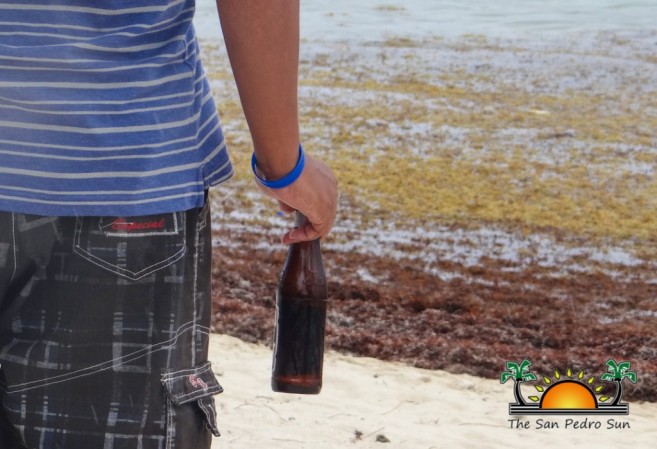 According to the warning release, these measures are being taken after a survey conducted by the Belize Police Department revealed that most of the victims of violent crimes on the streets are persons hanging out either drinking or loitering. In an effort to reduce these occurrences and make the community a safer place, the decision was taken to launch a campaign to discourage persons from publically consuming alcohol beverages and loitering on the streets.
According Deputy Officer in Charge of the Coastal Executive Unit, Assistant Superintendent Henry Jemmott, island officers have already been informed of the new regimen. Jemmott also indicated that he has consulted with Mayor of San Pedro Town, Daniel Guerrero, who is in full support of the anti-public drinking and loitering initiative. "In working with to reduce crimes that affect quality of life, the department has stated that we will start by first warning the public and educating them on the laws on public drinking and loitering. We will then move on to enforce the regulation," said Jemmott.
Under Section 44:01 (1) of the Intoxicated Liquor License Act, Chapter 150 of the Sustentative laws of Belize, Revised Edition 2003, it is an offence to commit the act of public drinking and any person found guilty of violating the law in the first instance is fined $25BZ followed by a fine of $50BZ if convicted for a second time. Loitering is an offence contrary to section 4(1) XLI of the Summary of Jurisdiction Offences Act, Chapter 98 of the Sustentative laws of Belize Revised Edition 2003. It is committed by any person who loiters or carouses in any street or public place or in any open space of ground in the immediate neighborhood of such street or public place or in or about any shop/store and does not quietly leave or move away when desired so to do by any police constable, owner of shop/store; or threatens, insults or cause annoyance to a passerby. Any person in violation of this law will face a fine of $200BZ, in default two month imprisonment, if found guilty in the first instance. Second instance carries a fine of $400BZ, in default six months imprisonment.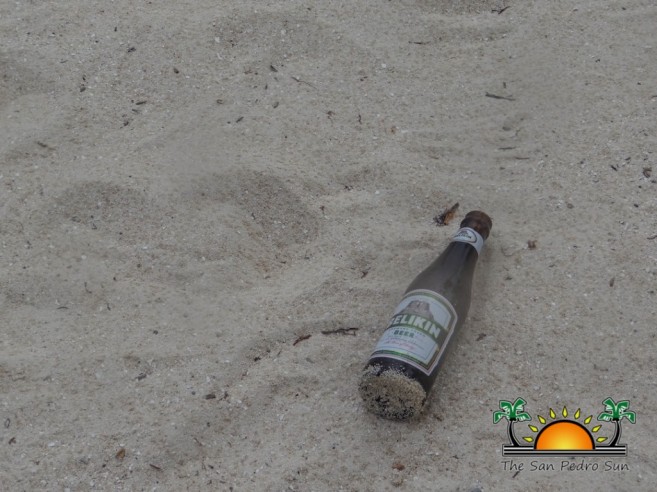 "The enforcement of the regulations against public drinking, bicycle offences, loitering and other petty offences is being done only to eliminate larger problems that stem to the quality of life our citizens have. These laws have always been there but rarely enforced," explained Jemmott.
The public drinking regulation does not necessarily mean that persons cannot consume alcoholic beverages in public places, but it needs to be done responsibly and inconspicuously. "Don't expect a major change. What we are trying to get the people used to is that in public places to use foam/plastic containers. While this does not deviate from the crime, at least it will show that you are an abiding citizen by not carrying bottles and cans of alcoholic beverages around. We understand that San Pedro and Caye Caulker are a tourism community, and that's why we are making a slight exception, but at the same time we want to keep the integrity of the law," said Jemmott.
The new measures will also reduce the number of bottles and cans that are improperly disposed in the streets, alleviating the ongoing garbage issue. "If people are not allowed to be carrying bottles then these will not end up in the streets. Not only do these bottles pollute the area, but can also be used as weapons in case an altercation breaks out," explained Jemmott.

Jemmott also indicated that police officers will be enforcing regulation on minors that are out in the street during late hours of the night. "We will be working with the Social Development Officer in dealing with minors that are out in the streets late at night. No child should be allowed in the streets without a parent or guardian at late hours. This only calls for problems. We urge all parents to ensure that their child is at home or under the care of a trusted individual late at night to ensure he/she is safe at all times and away from criminal activities," said Jemmott.
In the coming month, police patrols will simply be warning residents and visitors urging them to follow all laws and regulation. A person that is warned more than once will then face repercussions.
Follow The San Pedro Sun News on Twitter, become a fan on Facebook. Stay updated via RSS