Letter to the Editor: Camp Starfish says Thanks!
Friday, October 2nd, 2015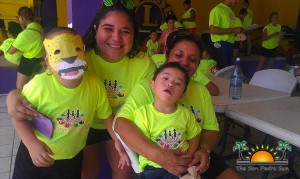 THANK YOU!
On behalf of the entire Camp Starfish team and the 27 Special Needs individuals who helped with your generosity, we say it again: THANK YOU!
Providing food, drinks, supplies, transportation, and even a float, the following businesses made Camp Starfish an overwhelming success. These corporate citizens exemplify the best of what teamwork can accomplish. So we say: THANK YOU
Romantictravelbelize.com, Tropic Air, San Pedro Town Council, San Pedro Lion's Club, Victoria House, Blue Water Grill, Fido's Courtyard, Sandbar Hostel, Pineapples Restaurant, The Reef Restaurant, Carlo and Ernie's Runway Bar, Casa Pan Dulce, Valentino de Caliz, Mr. & Mrs. Claudio Azueta, Island Torch Restaurant, El Dorado, 12 Belize, Island Construction, Caribbean Villas, Mermaids, Ambergris Caye Elementary School, Mr. Francisco Mendez, Ms. Melanie Paz, Ms. Stephanie Hemenway, Ultimate Golf Cart Rentals, Galy J Vasquez, Denni's Store and Pedro's Inn, Local Store, Mr. Jorge Aldana, Donya Juana, Shenny's World, San Pedro Catholic Church, Caribbean Treasure staff, Mr. & Mrs. Joel Chi, Clive Welch, The San Pedro Sun, Ambergris Today, Ms. Oni Marin, Wilema Alamilla, Sandra Nunez, Cynthia Ramierez, The Leos Club, Kaine Manuel, all those who donated to the dollar drive and all of the kind donors who came to camp to drop off supplies.
Then of course, there's the philanthropic nature of the individuals who came each and every day to help make the Camp an unforgettable success. To you folks, we say: THANK YOU!
San Pedro High School student volunteers, Nikki Kie, Lyzemie Calderon, Vicky Balam, Leilla Alamilla, Dalia Alamilla, Lupita Ancona, Lara Goldman, Rigo Kumul, Sarah Freudenberg, Dr. Kaity Kobayashi, Kimberlee Almon, Lynn Navin and UM St. Louis students, Susan Catapanos and UNCW students, Savanna Nunez, Rodelsy Carillo, Yaire Castillanos, Rebecca Johnson and Dr. Alexis Guerrero.
And finally, we extend a super special THANK YOU to First Lady Kim Barrow and His Lordship Mayor Daniel Guerrero for their continued support.
Follow The San Pedro Sun News on Twitter, become a fan on Facebook. Stay updated via RSS