Grand Caribe patrons and staff team up for Beach Cleanup
Thursday, November 12th, 2015
On Sunday, November 8th, the beach between Grand Caribe Resort south to Palapa Bar was cleaned up thanks to the combined efforts of two resort residents and some hardworking staff. Lisa and Ronnie Cyrier, along with 15 staff members from Grand Caribe collected a trailer full of garbage that had been washed up on shore during the recent inclement weather. Garbage remains the main issue across the island, but with the recent heavy rains, an exceptional amount of garbage has washed up on the beaches of Ambergris Caye.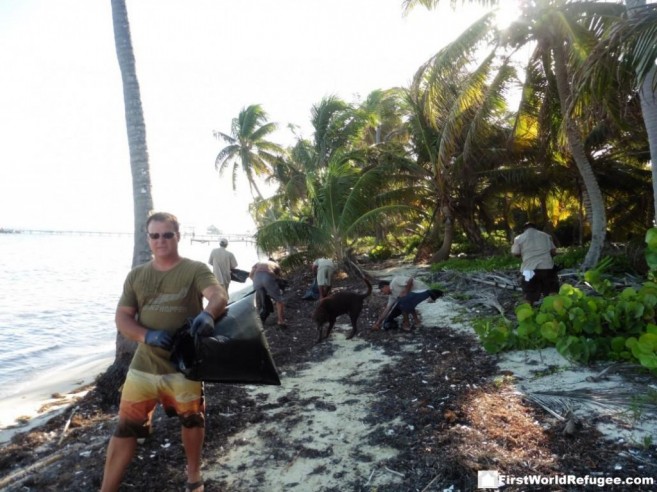 In an effort to beautify the area, the Cyriers, who live at Grand Caribe, set out to clean up the beach, but after filling up two bags, they realized that the task was far too big for just two persons. "We couldn't believe all of the garbage that had washed up on the shore from our most recent storm. Our plan was to pick up from Grand Caribe to Palapa Bar (our usual route), but there was no way the two of us could possibly tackle the amount of trash that had washed up on the beach. We filled up two bags in no time and made no headway. Feeling deflated, we came back to Grand Caribe and were talking to the grounds guys about it, they immediately all decided to donate their time after work to help clean up the beach," said Lisa Cyrier.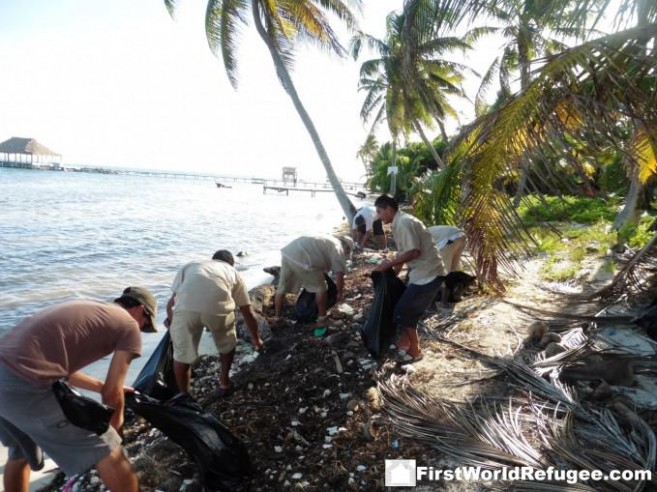 With the assistance of 15 staff members, the group set out to clean up the beach again at 3PM. "We were able to pick up all of the big pieces garbage on the beach from Grand Caribe down to Palapa Bar. It took less than one hour to fill up over 20 huge garbage bags of plastic. It definitely takes a village to keep our island clean. Our island is so beautiful and we appreciate all of the help to keep it looking its best! The guys really enjoyed, it and said they would like to make it a weekly event, and we definitely think that's a great idea," said Lisa.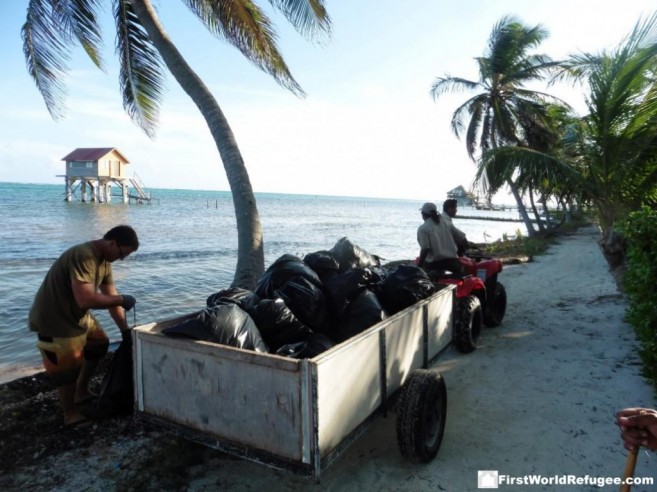 Congratulations to all the volunteers who took time to make La Isla Bonita a cleaner place. The Cyriers extend a giant "thank you" to the staff of Grand Caribe who volunteered their time to help clean up!
Follow The San Pedro Sun News on Twitter, become a fan on Facebook. Stay updated via RSS