Belize's Hyperbaric Chamber: Providing International standards of treatment on Ambergris Caye
Tuesday, December 22nd, 2015
Belize tourism industry continues to flourish, with most visitors engaged in recreational diving and snorkeling activities in our tropical waters. In San Pedro Ambergris Caye, the Sub-aquatics of Belize Limited has been offering hyperbaric medical treatment to the country's visiting and diving community for over 25 years. At an appreciation Christmas dinner held at Elvis Kitchen restaurant on Monday, December 14th, the San Pedro Hyperbaric Chamber's CEO Mauricio Moreno spoke to The San Pedro Sun about the origins and services of the 'Recompression Chamber Network' on the island, as well as praised the works of his invaluable staff.
The chamber is a member of the 12 Sub-Aquatic Safety Service (SSS) Network which has similar facilities in every continent. Some of these places include Mexico, Africa, Ecuador, USA, Bahamas and even Thailand. This attests to the facility's high standards and experience in hyperbaric medicine. The idea of having a Hyperbaric Chamber Clinic on the island came after Belize became a potential diving destination.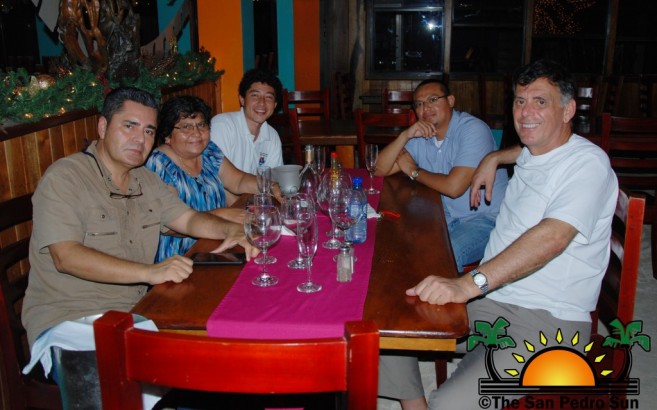 According to Moreno, Belize gave him the opportunity to love the Caribbean underworld and the vision to start a Hyperbaric Chamber in the country. "I became certified as a diver in 1979 in Belize, and ten years later with the support of Allan Foreman, Dr. Brown, and Pete Salazar, we established the first Hyperbaric Chamber in Central America. We were lucky enough to find a superb doctor who assisted us, the late Dr. Otto Rodriguez, and today I am fortunate to say that our first employee Antonia Guerrero continues to work with us doing a great job having successfully treated over seven hundred patients at the Hyperbaric Chamber," said Moreno. He reiterated the efficiency of Guerrero as a veteran in the hyperbaric practice, while introducing another member of their team, Andy Albeño who also has vast experience in the practice.
One of the most common dive related illnesses requiring hyperbaric medical treatment is decompression. Decompression related illnesses can occur when divers emerge from deep water too quickly without making periodic safety stops. Such action can cause a reaction that will form air bubbles that enter the blood stream and eventually find their way to the spinal cord. The second form of decompression illness is when oxygen bubbles accumulate when a diver remains underwater for a prolonged time, or may go to extreme depths over a period of time.
Moreno further explain that in the country there are between 4-5 qualified doctors in Hyperbaric medicine and one of them who works with the chamber, Dr. Dimas Sanzores from Caye Caulker, is the only one who is an advanced diver. "He is specialized in Hyperbaric Medical training plus he is a diver, the right person who can quickly diagnose someone suffering from a dive related disease. So any dive shop out there can really rely on our services because we have well trained personnel," said Moreno.
In fact, Moreno guarantees that his staff at the SSS Network could respond to any situation anywhere in the world, and perform well. "We trained everyone in my company at the international level. It has been 25 years practicing and providing the best Hyperbaric medical treatments there are. There are three very important components: prevention, detection, and management, which are essential for dive guides and instructors to know. We provide that training for them free of cost, so they know what to do when an incident happens out at sea," Moreno stated. The training is part of the Diver Safety Operation Program, which teaches divers how to operate the hyperbaric machine, becoming an assistant paramedic inside the chamber and CPR training and updates. Anyone interested in learning more can feel free to contact the Hyperbaric Chamber Clinic.
At the dinner's closing discussion, Moreno reiterated that the SSS Network has an open door policy in which no patient can be refused treatment. He ended by suggesting that since diving certifications are for life; dive shops should always ask their customers when their last diving activity was. By doing this, the instructor will know if the person needs a refresher test or not.
The San Pedro Hyperbaric Chamber is located right across the San Pedro Airstrip opposite Maya Island Air. You can contact them at telephone number (501) 226-2852, 226-3195 or email them at [email protected].
Follow The San Pedro Sun News on Twitter, become a fan on Facebook. Stay updated via RSS