Letter to the Editor: ACES thanks for assistance for Charity Gala
Sunday, February 7th, 2016
Ambergris Caye Elementary School (ACES) would like to thank everyone who helped make the Ball Gowns & BBQ Charity Gala & Art Auction a huge success!
Thanks to the incredible generosity of so many, our 1st Annual Ball Gowns & BBQ Gala was a night to remember and will be a bright spot on Ambergris Caye's social calendar for years to come! Ambergris Caye Elementary School raised over $15,000 in much-needed operating and scholarship funds. Also, thanks to a generous matching grant every dollar raised at the event itself will be matched in support of ACES efforts to combine excellence and affordability in education on Ambergris Caye.
We were delighted to have our tickets sell out well before the event and to see the ladies of San Pedro get into the spirit of the night with sequins and glamour galore, the gentlemen at their side sporting Hawaiian shirts and tropical linen (even the occasional panama hat could be seen among the crowd). With the gorgeous company and the rum punch flowing it could only be a great night in San Pedro!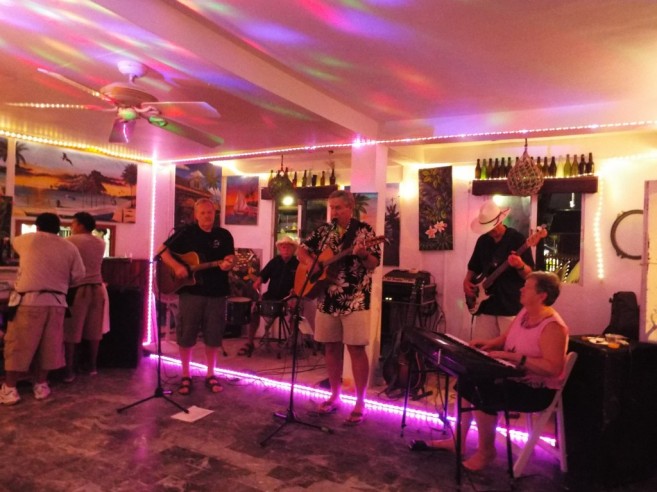 The food for the evening can only be described as stunning and a far cry from the boring dinners that Gala events are so famous for. Charles and the staff at Estel's went above and beyond, serving plate after plate of smoked brisket, sausage, ribs and chicken; a medley of different smoky flavors and sauces to tempt every palate. And dessert…….our staff still gets weak knees just thinking about Estel's key lime and coconut pie – the perfect end to a sumptuous BBQ.
Entertainment for the evening was graciously provided by Conrad and the Tried & True Band – they brought that special bit of Texas that they are so famous for to our BBQ Gala – ACES cannot thank the band or their lovely wives enough for taking time from their busy Camp Belize schedule to share their music with us.
Due to the generosity of our local business leaders the evening was an exciting experience of silent, fishbowl and live auctions featuring everything from stunning original canvases to fishing excursions to gourmet chocolate and even a box of cigars featured in Cigar Aficionado's top 25 for 2015.
The ACES Board of Directors took time to recognize Rob and Krista Burrows of Crazy Canucks for their selfless dedication and long term commitment to ACES and the education of San Pedro's children. Over the past two years, through Friday Night Trivia and their own unique "pop-up" auctions, they have raised over $20,000 for our school!
Ambergris Caye Elementary School would like to say a special thank you to the generous companies who chose to underwrite this event. Without their personal and corporate dedication to educating the children of Ambergris Caye and promoting fine arts in San Pedro this amazing event would not have been possible. Our very grateful thanks to Atlantic Bank, Atlantic Insurance and Atlantic International Bank.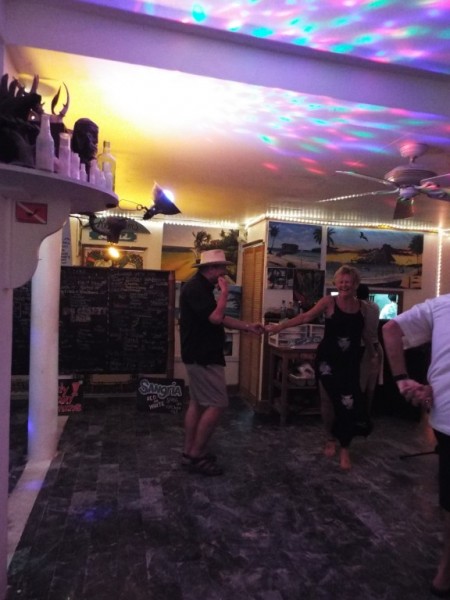 ACES would also like to take a moment to thank those who contributed art to the Art Auction – we had hoped that in addition to raising awareness and much-needed operating and scholarship funds for ACES, to bring attention to the incredible art of San Pedro, along with the talented local artists and artisans who generously donated pieces to this worthy cause. A special thanks to our art contributors Kirt Jason Cruz, this years Featured Artist, Fred Trejo, Gallery of San Pedro, San Pedro Originals, Premier Divers and Denice Ryan.
A special thanks to those individuals & businesses who chose to support ACES by sponsoring a table and inviting friends, family and business associates to learn more about ACES programs, scholarships and goals going forward. Thank you for your dedication to educating the children of San Pedro, Anne Forgey, Kurt & Karoline Huettl, Ladybug Landscape and Nursery, Eric & Krista Mohr, Premier Divers, Jerry & Jo Ritter and Rob & Beth Spica.
We cannot thank our community and business leaders enough for their support of this event. The response from our business leaders in San Pedro was so profound that it can only be described as humbling. When asked for contributions our local businesses staggered us with their willingness to help. Each of them generously took up our cause and gave what they could without a second thought. Our thanks to each of you for your devotion to education, the arts and your community.
12
Ali Mejia
Ambergris Seaside Realty
Amigo's Del Mar
Belize Chocolate Co.
Belize Sailing Center
Belizean Melody
Black Orchid
BlueWater Grill
Bowen & Bowen
Brent Butcher
BWS engineer
Caliente
Captain Sharks
Caribbean Villas & Amber Restaurant
Carlos & Ernie's Runway Bar
Castillo's Hardware
Caye Coffee
DandE's Frozen Custard & Sorbet
Doc's Tiki Bar
El Fogon
Gecko Graphics
Graniels
GSDA
Havana Cigars
Island Construction
Island Time
Just Relax Massage
Leslie's Salon
Lily's Restaurant
Lone Star Grill & Cantina
Maricelli Coy
Maya Island Air
My Secret Deli
Ocean Essence Spa
Palapa Bar
Ramons
Ramons Dive Center
Roadkill Bar
Rum & Bean
SACNW (South Ambergris Caye Neighborhood Watch)
San Pedro Originals
San Pedro Sun
San Pedro Water Sports
Sand Bar
Seaduced
Searious
She She Koi & Lazy Pelican Catering
SP Hardware
The Baker
The Greenhouse
The Melt
The Palms
The Reef
Toucan Gift Shops
Tropic Air
Unbelizeable
Waraguma
Wayo's
Wild Mangos
Wine de Vine
Wings
Follow The San Pedro Sun News on Twitter, become a fan on Facebook. Stay updated via RSS