SPSUN Facebook fans 'LIKE' our Valentine Poetry Winners
Friday, February 12th, 2016
This year The San Pedro Sun's annual Valentine Poetry Contest saw a great number of entries, with poets of all ages sharing their odes to love and devotion. In an effort to involve the community in the judging process we posted the poems on our very popular Facebook page, giving our fans the difficult task of choosing the winners.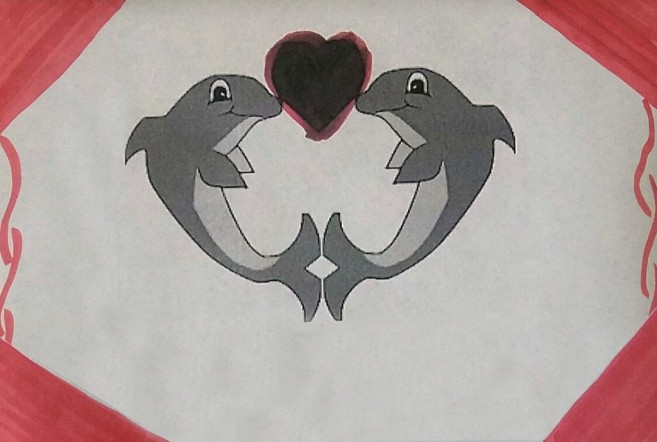 Beginning on Tuesday, February 9th The Sun began posting poems on our Facebook page and readers were asked to 'Like' their favorite poems. Likes equaled votes, and were considered up to 11:30am on Thursday, February 11th when they were tallied. In all, the four poems that received the most Likes were chosen as the top contest winners.
"Dear Doctor Love" composed by /s/ Overwhelmed (Luis Joel Gamez) earned 55 Likes, making the poem looking for romantic advice the top winner.
Dear Doctor Love
I'm done stealing from Romance's Cove.
The last things I took were harp strings, a book,
And a bird with a teasing look.
My heart keeps overflowing so oh so
For I've also stolen flower stars that glow and glow;
So, why isn't my other half with me?
I've dated the air and other rivers that run,
Even took your helpful advises from The San Pedro Sun,
But as soon as the moon zooms on me
I sing only for her that has the magic key.
My heart keeps playing a love song, so oh so,
What am I doing wrong, do you know?
One day a bee challenged me to make some honey,
I took her advice but still felt lonely.
I've mixed sweetness in the streams of dreams;
Might be lonely forever, that's how it seems.
My heart keeps overflowing with love so oh so,
Is there any girl for me, do you know?
/s/Overflowed
In second place was "My Love for You" by Mark Cabrera with 46 Likes: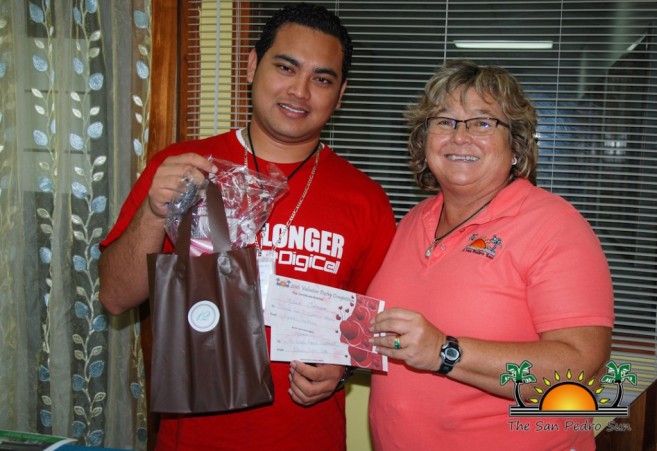 My Love For You
How can I start off to express?
Come into my arms, only then I will gain
The words, while your lovely face I caress.
For every morning when I wake up and see the sunshine
It brings me happiness especially when I see you smile.
You're my girl, my woman and my dearest friend
And I just hope and sometimes I wonder
If it will be like this till my very end.
With you I feel like a song with harmony
And with you I've created my own family…
I would never want us to let loose
Because if I was to go back in time
You'd still be the one that I would choose!
Happy Valentine my dearest one!!!
Third place went to Jaime Bautista's "Come to my Island my Valentine" with 34 Likes: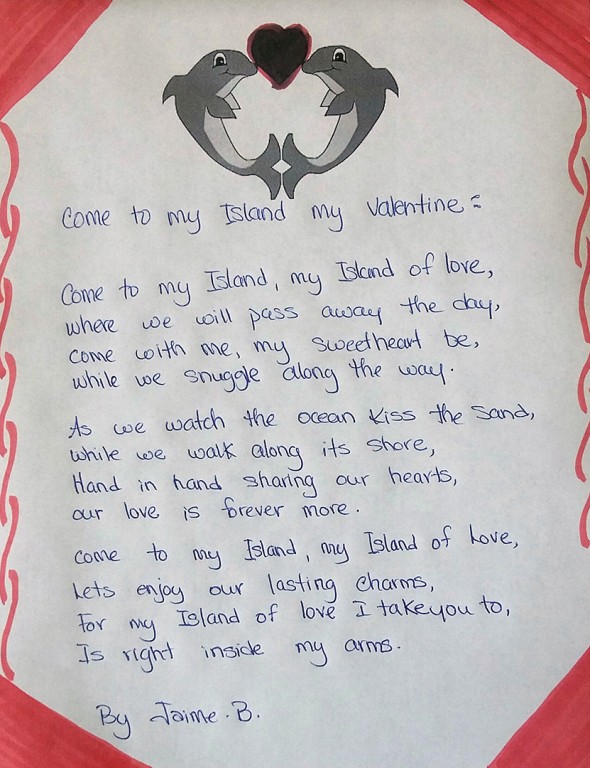 Fourth place was awarded to Byron Manzanero for "El Amor de Mi Vida" with 24 Likes:
EL AMOR DE MI VIDA
Duele que me digan que muy mal me la estoy pasando,
Que no encuentro la salida del amor que algún día había encontrado.
He guardado todas tus fotografías constantemente en mi mente,
Sin imaginarme que el amor de mi vida me habría dejado para siempre.
Recorro los paisajes con la esperanza de volverte a encontrar,
Para decirte al oído que si volviera a nacer, de ti me volviera a enamorar.
Quise ganar la lucha contra tu orgullo sin pensar que me sorprendieras,
Diciéndome, que para mi tú no eres el amor de mi vida no importando como te sintieras.
Día tras día me voy muriendo lentamente sin ti,
Cuando tu nombre suena completamente dentro de mí.
Trato de olvidarte pero cuando mas intento hacerlo es cuando más te recuerdo,
Se entristece mi corazón porque el amor de mi vida de mi se olvido.
Comienzo a resignarme porque para ti yo no soy nadien,
Ya que en la vida hay millones de habitantes esperando a que los amen.
Empiezo a valorarme, también considerarme que soy alguien especial e importante,
Que para alguna otra linda mujer seré el amor de su vida, felizmente para siempre.
Prizes have been generously donated by Seaduced by Belize, Caliente Restaurant, Pirates Treasure, Island Dream Tours, Belize Chocolate Company, O Restaurant at Las Terrazzas, 12Belize, Oasis Spa, Time Out Golf Cart Rentals and Caribbean Villas.

We sincerely thank all who were inspired to submit their poetry, and we are very grateful for the generosity of local business who donated prizes. Thank you from the bottom of our hearts!
Follow The San Pedro Sun News on Twitter, become a fan on Facebook. Stay updated via RSS