Belizean Debra Baptist-Estrada receives International Women of Courage Award
Tuesday, April 5th, 2016
The annual United States of America's, "Secretary of State's International Women of Courage Awards" took place on Tuesday, March 29th. The US Secretary of State, John Kerry, honored fourteen unique women from around the world who have demonstrated courage and leadership in advocating for human rights, gender equality, women's equality, and social progress.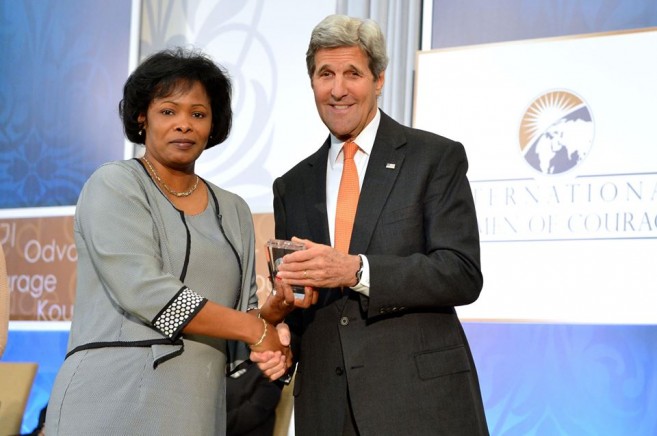 To name a few, recipients included citizens from Asia, Africa, the Middle East, Europe and even the Caribbean. Debra Baptist-Estrada, native of Belize, received an impressive award from Kerry in Washington, DC at the US State. For the last 20 years Baptist-Estrada has worked as a Port Commander at the Belize Immigration and Nationality Department in the immigration department.
The State Department summarized each recipient's biographies and as for Estrada, they commended her for her refusal of bribery. "In an institution largely dominated by men, 20-year Belize Department of Immigration veteran Debra Baptist-Estrada has consistently refused bribes and other incentives to look the other way."
As Port Commander of Belize's only international airport, Philip S. W. Goldson International Airport, Estrada worked with U.S. officials last year to expose a drug and human smuggling operation to the U.S. and Europe. The State Department added: "After being transferred to Belize's northern border this summer, Estrada continued to bring her incorruptible style to the job, enforcing immigration laws that had not been enforced for a very long time, and rejecting bribes."
Estrada is courageously promoting the change this country needs by strengthening the rule of law.
On April 1, the award winners will travel across cities in the United States to attend an International Visitor Leadership Program. In the end, the group will reunite in Los Angles, California to reflect and share ideas on how to improve the female population in the world.
Follow The San Pedro Sun News on Twitter, become a fan on Facebook. Stay updated via RSS