Rotary Club of Ambegris Caye officially chartered
Monday, July 11th, 2016
The Rotary Club of Ambergris Caye, officially became the 10th Rotary club of Belize on May 25, 2016. The unveiling came through Rotary International, making the local Club one of over 70 clubs in District 4250, which consists of Belize, Guatemala and Honduras.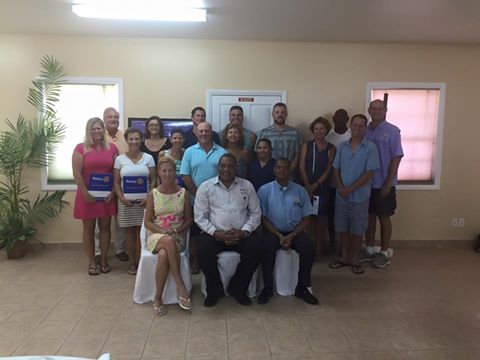 During the official charter ceremony held on Wednesday, June 29th at Banyan Bay Resort new Rotarians were sworn in before nearly 60 Rotarians, friends, and family. They also received a charter certificate and a charter member pin, then pledged their dedication to the 4 -Way Test. The 4 -Way Test is one of the world's most widely printed and quoted statements of business ethics, created in 1932 by Rotarian Herbert J. Taylor. The statement says 'Of the things we think, say or do.'
1. Is it the TRUTH?
2. Is it FAIR to all concern?
3. Will it build GOOD will and BETTER FRIENDSHIPS?
4. Will it be BENEFICIAL to all concern?
To add to the special occasion, the new Rotarians were joined by members of the sponsoring club (The Rotary Club of Belize Sunrise) in enjoying a beach barbeque to close off the charter inauguration. Led by fellowship Committee Chairperson Kate Corrigan (Keller Williams) everyone enjoyed a great feast and fun beach games. At the end of the celebration, The Rotary Club of Belize City Sunrise presented the Rotary Club of Ambergris Caye with the official club banner, and Dee Regis from Aqua Vista was installed as the president for the 2016-2017 period.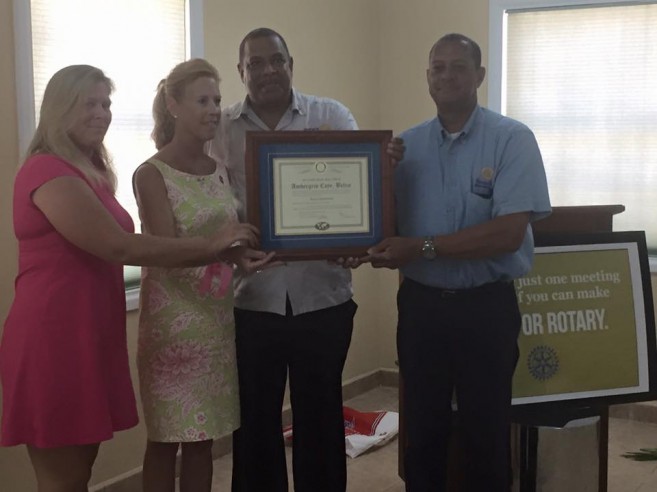 The Club has been very active in the community prior to its chartering, successfully completing four community projects. The first was a donation of wheelchairs to the Dr. Otto Rodriguez San Pedro Polyclinic II. This was followed by a community book drive which garnered more than 5000 books for the San Pedro Town Public Library. The next project dealt with assisting the Seventh Day Adventist New Horizon Primary School with trash pick-up, painting and general maintenance at the school premises. Finally, during the annual Lobster Fest block party in San Pedro Town on Saturday, June 25th, the Club held a Lobster Fest Chair for charity. Tickets were sold prior to the festival for reserved seating at the block party, giving buyers seating near the food station, bar access, use of portable toilets and even a chance to win a 3-night stay at a luxurious resort. All proceeds from that event will be used towards future projects of the local Rotary Club.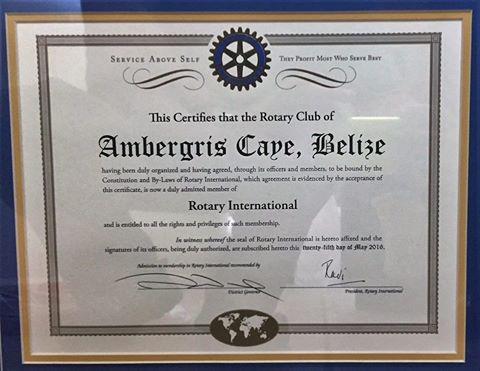 The creation of the club on Ambergris Caye was possible thanks to the guidance of Anthony Hunt (Tropic Air) of the Sunrise Club, Paul Hunt of the Belize City Club and the president of the Rotary Club of Belize City Sunrise, Ray Hohenkirk from Caribbean Treasures. The Rotary Club of Ambergris Caye was chartered with 24 members across many professions, and operates under the direction of District Governor Rene Villanueva, a long time Rotarian and owner of radio station Love FM.
Rotary Club members on the island want to be an example of community spirit, showing how a small investment of time and effort can go a long way.
For information on the Rotary Club of Ambergris Caye, you can visit their Facebook page: https://www.facebook.com/RotaryClubofAmbergrisCaye/?ref=settings
Follow The San Pedro Sun News on Twitter, become a fan on Facebook. Stay updated via RSS