Guest Editorial: Section 53 ruling – What does it truly mean?
Sunday, August 14th, 2016
By Colette Kase
If you have been reading or watching the news or social media, you will have heard that there was a case ruled in the Belize Supreme Court on the 10th of August 2016. You probably know it is something to do with 'gays' and you may or may not have an opinion on that. In fact, you probably are not even sure what the case was about. Please allow me to assist.
Several years ago I met a young man called Caleb. He was shy, geeky and always just a little bit nervous. He grew up with little or nothing, just like so many other young men, in the south side of Belize City. He also happened to be a gay man. This is where his life differed greatly from many of his peers. You see, Belize was, until the 10th of August, one of 76 countries that criminalise homosexuality in one way or another.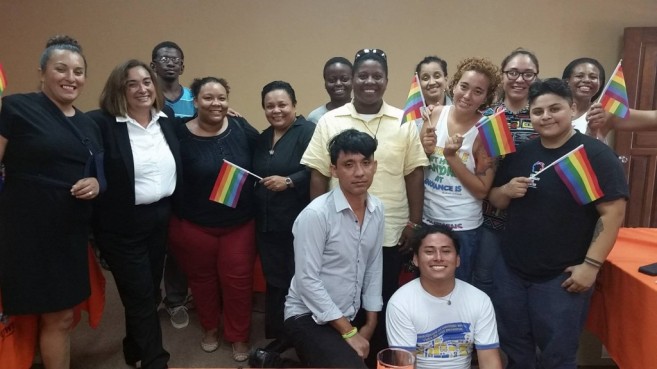 Surprisingly to many, Belize's law was not gender specific, nor did it mention homosexuality. Section 53 of the Criminal Code simply referred to 'intercourse against the order of nature with any other person' and came with the generous prison sentence of 10 years. Technically, this meant that any sex act not performed exclusively for the purpose of procreation was outlawed, whether you were gay or straight. The problem was that this law had been used exclusively to stigmatise and discriminate against LGBT people and this is what the Chief Justice Kenneth Benjamin found in his ruling.
Three years ago I sat in the Supreme Court and watched Caleb Orozco metamorphasise from the socially awkward, quiet young man I knew into a freedom fighter. He, as an individual, took the government of Belize to the Supreme Court and made it very clear that as a Belizean, he had the right to the same protections under the Constitution of Belize as any other citizen and the fact that he was gay shouldn't change that.
It took three years for the ruling to finally be read. During that time, Caleb became known worldwide as a human rights campaigner and the New York Times featured him on the front cover of their magazine. Caleb's case was artfully handled by some of the best legal minds.
For the reading, two highly respected lawyers, Lisa Shoman, who has served as Senator, Foreign Minister and Ambassador for Belize, and Westmin James, a litigation specialist in human rights and social justice from the University of the West Indies, who both represented Caleb through this challenge, were present to hear what is a historic ruling in the Caribbean for LGBT people.
The Chief Justice decided that Caleb Orozco had, indeed, been discriminated against and found in his favour making it clear that consensual sex between gay adults is not a crime…oh, and where the constitution of Belize talks about protecting all people from discrimination, sexual orientation is covered.
But what does it really mean? I'm so glad you asked because there are a lot of myths and misconceptions about this ruling and I'd like to sort that out for you right now.
* LGBT Belizeans in consensual relationships will no longer be at risk of arrest or extortion by those using this law to criminalise their sexuality and relationships.
* LGBT Belizeans will be able to access health care and other services without fear of stigmatisation.
* LGBT Belizeans are now guaranteed, along with all other Belizeans, to be protected from discrimination according to the Constitution of Belize.
* People who have LGBT family members, children, friends and loved ones, no longer have to be so frightened and worried on their behalf.
* LGBT people across the Caribbean may now have a better chance to gain equality in their own countries.
* Straight people can have fun in the bedroom even if they aren't trying to make babies and not be 'unapprehended felons'.
* Any non-consensual sex, including sex with minors and animals, continues to be an offence.
* There will be no orgies in the street.
* LGBT tourists are welcome to come and spend lots and lots of money here knowing that they are supporting a country that protects the rights of all of its citizens.
That's about it. There has been some wailing about the end of the world by a small, vocal minority. It appears that they find the idea of two men having sex disgusting. I can understand that. The thought of quite a few people I encounter day to day having sex would also disgust me. Please allow me to resolve that problem. Stop thinking about other people having sex. Once you do that, you'll discover that unless you are gay, this ruling really hasn't changed anything.
For Caleb, everything has changed. He's a bit of a hero now and for the first time in his adult life, he is no longer considered a criminal for being who he is. Oh, and I can proudly call a real life hero my friend. Love wins.
Follow The San Pedro Sun News on Twitter, become a fan on Facebook. Stay updated via RSS