Tropic Air Gives Back to Liberty Children's Home
Sunday, September 18th, 2016
Press Release – Tropic Air, The Airline of Belize – September 14, 2016 – Tropic Air, The Airline of Belize, has announced the August results of its 2016 nationwide #TropicGivesBack charitable fundraising campaign. For every ticket bought at the month's selected station, $1 is donated to an organization chosen by our staff stationed in that community. August was the chosen month for Belize City Municipal Airport.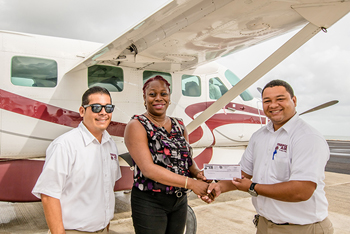 Even with the effects of Hurricane Earl, Tropic Air business partners, staff and Customers joined efforts and raised $635 for the Liberty Children's Home in Ladyville. A check was presented to Agatha Valentine of the organization by station manager Rudolph Perez, and staff member Francis Trujeque, on Wednesday, September14th.
"The child-centered care Liberty provides to the Belize City community is truly fantastic", said John Greif III, Tropic Air's president. "It was an honor to make this donation on behalf of our customers, and we hope it will aid the organization's efforts to continue with their mission. At Tropic we strive for our employees to be inspired to enhance and serve the communities in which we live and work. We want them to be agents of positive change on the issues that impact the quality of life for members of the community."
To achieve this mission, Tropic's volunteer and philanthropy program encourages employees to increase their presence in the community by participating in activities of community organizations. "Throughout the year, Tropic provides numerous opportunities for employees to give back and support the community with financial and human resources" said Steve Schulte, Tropic Air CEO. "We look forward to participating in many more philanthropic opportunities".
The #TropicGivesBack program moves to the Belize International Airport this month, with San Pedro scheduled for October.
About Tropic Air
Founded in 1979, by John Greif III, with just a single airplane and two employees, Tropic has steadily grown to become the largest and most experienced airline in Belize. It now employs over 300 staff, and offers over 200 daily scheduled flights with 14 aircraft to 18 destinations in Belize, Mexico, Honduras and Guatemala. Tropic Air joined IATA's ISSA Registry in 2015. In the same year it carried 320,000 passengers and moved 424,000 pieces of freight system wide.
Tropic believes in giving back. It supports the development of the communities it serves through health, sports, drug prevention, education and community projects. Tropic also supports the development and growth of the wider tourism industry of Belize through promotional initiatives locally and internationally.
About Liberty Children's Home
Liberty Children's Home is a sanctuary for children in need, providing a natural environment, love, nurturing, and a high standard of education. Situated in Ladyville, on the outskirts of Belize City, Belize, Central America, Liberty Children's Home is unique in its commitment to child-centered care and education. The home's philosophy has been influenced by the Pikler method of childcare, a well-researched approach developed to prevent the damaging effects of institutionalization on children.
Follow The San Pedro Sun News on Twitter, become a fan on Facebook. Stay updated via RSS