Tropic Air gives back to San Pedro RC School and San Pedro Tour Guide Association
Sunday, December 4th, 2016
Press Release – Tropic Air, The Airline of Belize – November 25, 2016 – Tropic Air, The Airline of Belize , has announced the October results of its 2016 nationwide #TropicGivesBack fundraising campaign. For every ticket bought at the month's selected station, $1 is donated to an organization chosen by our staff stationed in that community. October was the chosen month for San Pedro.
As part of the airline's largest charitable fundraiser of the year, Tropic Air business partners, staff and Customers joined efforts and raised $1384. The donations have been divided equally between ($692 each) the San Pedro Roman Catholic School's Marching Band and the San Pedro Tourist Guide Association's environmental program. Checks were presented in San Pedro to Mrs. Roxani Kay and Philip Leslie of the school and the association respectively, on Tuesday, November 22.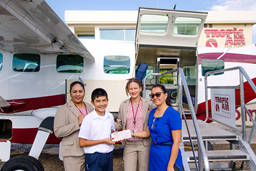 "Tropic welcomed the opportunity to help these two organizations. We have a keen appreciation of the important roles that both music and environmental education play in our island community, and a long-standing commitment to corporate social responsibility," said John Greif III, Tropic Air's president. "Through music and respect for the environment, we hope to inspire future generations to pursue their dreams."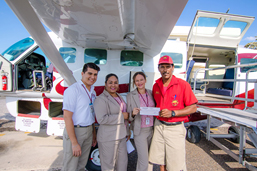 "Like many of our community initiatives, the inspiration for our support comes from our staff who are volunteering in and contributing to their communities", said Steve Schulte, Tropic Air CEO. "This is a wonderful opportunity for our team members in San Pedro to give back to local organizations and the members of the community they serve."
About Tropic Air
Founded in 1979, by John Greif III, with just a single airplane and two employees, Tropic has steadily grown to become the largest and most experienced airline in Belize. It now employs over 300 staff, and offers over 200 daily scheduled flights with 16 aircraft to 19 destinations in Belize, Mexico, Honduras and Guatemala, including its newest, Chetumal, Mexico. Tropic Air joined IATA's ISSA Registry in 2015. In the same year it carried 320,000 passengers and moved 424,000 pieces of freight system wide.
Tropic believes in giving back. It supports the development of the communities its serves through health, sports, drug prevention, education and community projects. Tropic also supports the development and growth of the wider tourism industry of Belize through promotional initiatives locally and internationally.
About the San Pedro Tourist Guide Association
The San Pedro Tourist Guide Association is a non-profit organization representing over 300 members. Every year it gives back to the community by engaging in activities that either help communities or protect the natural environment. Projects like kids in action, reef enhancement project and lobbying for guide protection.
About the San Pedro R.C. School Marching Band
Musical instruments were donated to the school, the largest on the island, in November of 2007 for the development of a marching band. With the help of teachers, parents, community, and students, the marching band participates in school and community events. It is a valuable part of the school's initiative to give students valuable extra-curricular and educational programs that enhance their talents and avenues, and that express their creativity through music and art.
Follow The San Pedro Sun News on Twitter, become a fan on Facebook. Stay updated via RSS