Saga says goodbye to Dr. Samantha English
Thursday, December 15th, 2016
After a year of hard work and dedication to the San Pedro Saga Humane Society, Dr. Samantha English is leaving the island. The staff at Saga honours her as a hard- working veterinarian who spent endless nights watching over hospital patients who all benefited from her services. The many animals she saved and the many friends she made while on La Isla Bonita, will never forget her.
During her stay in San Pedro Town, Dr. English, along with the staff at the Saga clinic, oversaw the shelter animals at the clinic. She was also very instrumental in overseeing the spay/neuter program SNIP for the public and treating hundreds of locally owned pets (dogs) for vaccines, sickness and surgeries. She did not do all this alone, and on many occasions, she teamed up with Saga's very own technician Ingrid Lima, and from time to time, would also have assistance from visiting veterinarians.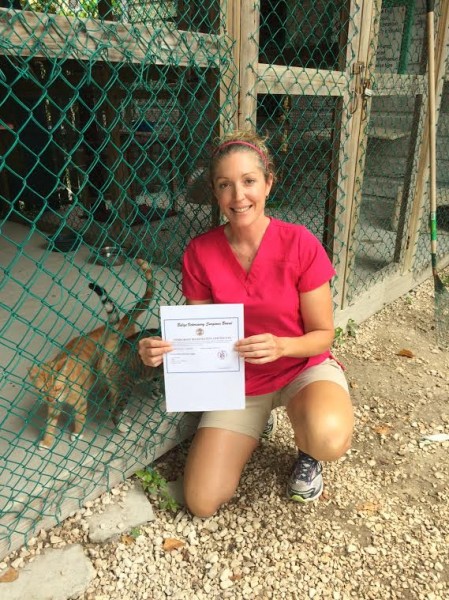 Before moving to Belize in December 2015, English, a Canadian national, had been practicing small animal medicine for nine years in Florida, USA. She obtained her Bachelor of Science with honours from the University of Guelph in 2012, and four years later was a Doctor in Veterinary Medicine from the Ontario Veterinary College.
According to her, the inspiration to become a veterinarian came from growing up with show dogs. She is very grateful for the opportunity and amazing time she had while in Belize.
English's departure leaves the Saga clinic without a certified veterinarian, which may inhibit their functions as a veterinarian facility. However, thanks to the partnership with an international non-profit organization known as Travelling Animal Doctors and Darwin Animal Doctors (T/DAD), Saga will count with certified vets throughout 2017. T/DAD will ensure that the clinic has a consistent veterinarian presence, up to the highest standards.
Additionally, T/Dad will also be sending their Humane Education Coordinator to implement their Humane Education Program. According to T/DAD, this program will promote and further develop the understanding and views of animal welfare on the island. The partnership work is expected to commence as early as January 2017.
The San Pedro Sun joins the community in wishing Dr. English all the best in her future endeavors. We also congratulate Saga on their new partnership.
Follow The San Pedro Sun News on Twitter, become a fan on Facebook. Stay updated via RSS