BWS starts sewer expansion on Laguna Drive
Friday, March 17th, 2017
On Monday, March 13th, Belize Water Service (BWS) commenced work on its sewer expansion construction project on Laguna Drive. Funded by BWS and the Government of Belize, the $1.5 million project is geared to protect the environment, while promoting economic development. The project is scheduled to take approximately six months to complete, and is expected to benefit 62 residents/businesses.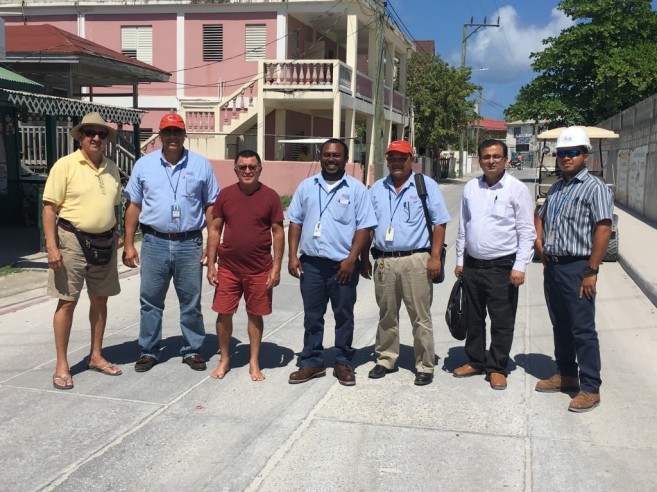 On Thursday, March 9th, Mayor Daniel Guerrero and Minister of Tourism and Civil Aviation and Area Representative of Belize Rural South Honorable Manuel Heredia Jr. met with members of BWS to discuss the intentions to further expand its sewage system. Alvan Hayne, Chief executive officer (CEO) of BWS, along with Sanjay Keshwani, BWS Technical Services Manager, Dave Pascascio, BWS Operations Manager, and Jermaine Jones, BWS Operations Supervisor, were also present at site, and visited the areas that will be connected to BWS' sewage system.
Jorge Aldana, Local Development Officer for the San Pedro Town Council (SPTC) stated that this project will have positive impacts on the environment. "The BWS' sewer expansion project is in coordination with the SPTC. This is a project that will no doubt alleviate the environmental pressures in the area. All current residents, except one, are not connected onto the sewer. The human waste is pumped into a septic and that seeps through the water bed and we all know that it will eventually affect the environment. BWS will be fixing some manholes in the sewer system, as well as repairing and replacing damaged pipes," said Aldana.
According to BWS, there will be some costs to the beneficiaries, but BWS is working on a payment plan so that they can benefit from the expansion. The payment plan is to be spread across 12 months, providing much-needed financial accommodation. BWS and the SPTC kindly asks the community for their cooperation during this time.
Follow The San Pedro Sun News on Twitter, become a fan on Facebook. Stay updated via RSS