Island residents/visitors are reminded to stay dry during Good Friday
Tuesday, April 11th, 2017
As the Easter holidays (Friday, April 14th to Monday, April 17th) draw near, the San Pedro Police Department (SPPD), San Pedro Town Council (SPTC) and the San Pedro Liquor Licensing Board are urging residents/visitors to have a "dry" Good Friday. Since many residents observe the religious aspect of Easter, no stores, supermarkets, bars or restaurants are allowed to sell alcoholic beverages from midnight on Thursday, April 13th to midnight on Friday, April 14th.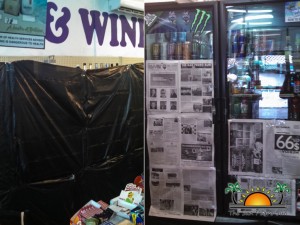 The SPPD also reminds the public that all liquor shops and bars must be closed. Hotels are permitted to sell alcoholic beverages to bona fide guests only. In addition, residents are not allowed to drink in any public area. The consumption of alcoholic beverages is strictly limited to where it cannot be visible to the public.
In addition, any restaurant caught selling alcoholic beverages will face serious criminal charges, including the confiscation of all liquor and beer inventory and a summons for charges. The SPTC has also indicated that infractions to the regulations will result in the removal of the establishment's liquor license. Persons caught drinking in public areas or illegally selling alcoholic beverages will be arrested and detained until they appear before the court on Tuesday, April 18th.
Officer in Charge of the Coastal Executive Unit, Assistant Superintendent Henry Jemmott stated that there will be increased patrols to enforce this law. "Consuming no alcohol is a part of the law, and it is a way to show respect to the religious community. We will be increasing our gate patrols to make sure that all businesses that carry liquor have their alcohol removed or concealed. We will also be increasing patrols on boat ferries, and at airport cargos," said Jemmott.
The dry Good Friday is mandated under the Intoxication Liquor Licensing Act Chapter 150 of the Laws of Belize section 27 states:
(1) All licensed premises in which liquor is sold under a publican's general license shall be closed- (a) on Christmas Day and Good Friday
(2) All licensed premises in which liquor is sold under a malt liquor and cider license shall be closed- (a) on Christmas Day and Good Friday;
(3) Any person who during the times at which any licensed premises are required by this section to be closed- (a) sells or exposes for sale in such premises any liquor; or (b) opens or keeps open such premises for the sale of liquor; or (c) allows any liquor, although purchased before the hours of closing, to be consumed on such premises, is guilty of an offence and is liable for a first offence to a fine not exceeding fifty dollars, and for any subsequent offence to a fine not exceeding one hundred dollars.
All residents and visitors are encouraged to be safe. Driving under the influence will not be tolerated throughout the Easter weekend. The San Pedro Traffic Department will also be conducting traffic check points throughout the course of the weekend to prevent driving infractions.
The San Pedro Police and San Pedro Town Council wishes everyone a happy, and safe Easter.
For emergencies contact: San Pedro Police Department at 206-2022, San Pedro Fire Department at 206-2372, Dr. Otto Rodriguez San Pedro Polyclinic at 226-2536 and medical emergencies at 660-2871.
Follow The San Pedro Sun News on Twitter, become a fan on Facebook. Stay updated via RSS