SESB – Training Belizean Solar Caretakers
Wednesday, July 12th, 2017
SESB (Solar Energy Solutions Belize) provided an eight-day SOLAR CARETAKING TRAINING course. It was held between Monday, June 26th and Thursday, 6th, July, 2017 and took place at SESB show system in Teakettle, Village. The need for trained personnel in the area of solar system maintenance sparked the idea to seek funds for the development of the course. It resulted in collaboration with the interdepartmental platform of the Swiss Federal Office – REPIC (Renewable Energy and Energy Efficiency Promotion in International Cooperation) and partners ZENNA from Switzerland and CDW STIFTUNG from Germany.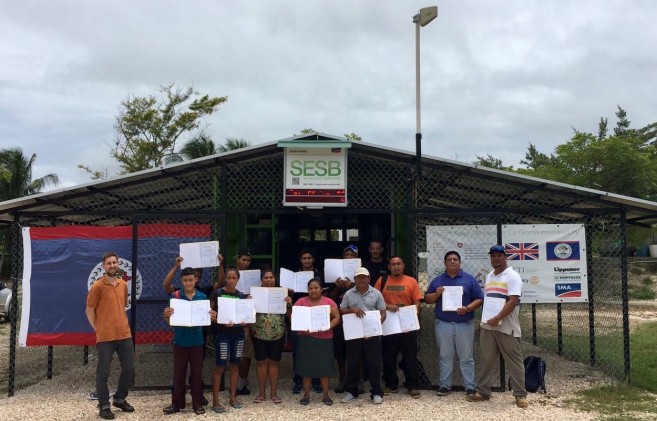 The aim of the course was to provide Basic Solar Caretaker training customized for people handling solar systems on a daily basis. Topics included learning about system components, maintenance and troubleshooting of solar systems. The 12 successful participants from all over Belize received a SESB-Certificate at the end of the eightday training.
• Adrian Blanco the manager at Pooks Hill Lodge, Teakettle
• Antonio Ricardez Jr. working for John Searl, St. George's Caye
• Baldemar Tut working at Table Rock Lodge, Cayo
• Patricia Molina from La Gracia Village, Cayo
• Domingo Teul working at Southern Environmental Association (SEA), Laughing Bird Caye
• Orvin Young working at Tarpon Caye Lodge
• Felipe Saravia working at Pelican Beach – South Water Caye
• Wendy Flores from La Gracia Village, Cayo
• Ingrid Ceballos from La Gracia Village, Cayo
• Juanito Lerma from Santa Elena, Cayo
• Jonter Urbina from La Gracia Village, Cayo
Some of these participants included men and women from La Gracia. La Gracia Village in the Cayo District recently inagurated a centralized Smart Solar Off- Grid System powering the entire village Patricia Molina: "I decided to attend this course because we have a system at the village. I didn't know anything about solar energy. Having knowledge about the system is very important for us and for the growth of the entire village. Also, I think what I learned here I can apply to my personal daily consumption of electricity." After training, the Solar Caretaker is able to perform the daily maintenance and first level troubleshooting on a solar system. This is not only beneficial to the participants, but also their respective employers such
as resorts, island get-a-ways and other remote businesses. Due to its success, SESB is planning to repeat the training course. Contact SESB office at 666-1000 or email [email protected] to hold a space in the following course.
Follow The San Pedro Sun News on Twitter, become a fan on Facebook. Stay updated via RSS