SPPD to enforce liquor license law on vessels serving alcohol
Friday, July 21st, 2017
Whether you're on a day cruise, sunset cruise, or even on a snorkeling tour, more often than not, alcohol is served at some point on your trip. In a recent meeting between Chairlady of the San Pedro Town Council's (SPTC) Trade and Liquor Licensing Board, Jennie Staines, and Officer in Charge (OC) of the Coastal Executive Unit, Superintendent Henry Jemmott, it was mandated that San Pedro Police will now enforce the law that requires tour operators who supply alcohol on their vessels to obtain a liquor license.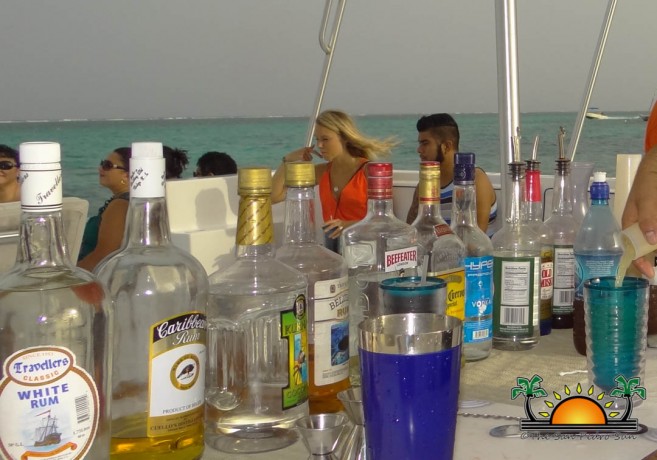 According to the 'Intoxicating Liquor Licensing Act', Section 21, Chapter 150 (3), Revised Edition 2011, of the Substantive Laws of Belize, "there shall be granted under this Act the following kinds of licenses permitting sale of liquor in the premises and by the person described in the license: (i) a vessel license for the sale by the master of the vessel of liquor to passengers for consumption on board the vessel."
OC Jemmott stated several warning letters have been issued to vessel owners who are not in compliance. "If liquor is sold on a vessel, the tour operator needs to check with the SPTC and fill out an application for a vessel license. The police are enforcing these vessels to have the appropriate license, and failure to do so is committing infractions under the law. The law is there to regulate certain things, and we need to know the activities these vessels are doing. All we want is for these persons to acquaint themselves with the law and apply for this license through the proper channels," said Jemmott.
He further explained that before a person gets a vessel license, he/she needs to fulfill all the same regulations and rules as a person that is applying on land. "Because they are on sea, they need to make sure they have all of the proper coverage, such as having the proper navigational lights, sufficient life guards, life vests, a fire extinguisher, a contingency plan if the boat sinks, and a radio must be mounted on the vessel. So when all laws of the Port Authority are met, the Liquor License Act will check what they need additionally," said Jemmott.
The San Pedro Sun spoke to a tour operator, who said he has no issues with adhering to the laws. "I received a letter, and I have no problem applying for this particular license. However, I do not sell liquor on board, it is given complimentary as part of the package deal. If they are enforcing this law, I believe this regulation should be implemented across all vessel owners that distribute liquor on their tours."
Although the cost of a vessel license is $300 per year, one tour operator with a fleet of vessels believes these fees will be overbearing. "The fees are not as much as hotel or public license, but when you have more than one vessel, $300 per boat adds up very quickly," he said.
A representative from the SPTC stated that the liquor licensing board are targeting vessels that primarily serve alcohol. "Currently there are no vessels on Ambergris Caye that have the required liquor license, so the licensing board is enforcing that these vessels to have it. These vessels might not sell alcohol on board, but the price of the alcohol is pre-included in their packages, and they must follow the regulations," said the representative.
Those who received letters are taking steps to apply for their vessel license, and will be attending a meeting to further discuss the new requirement. Meanwhile, the Trade and Liquor Licensing Board, along with OC Jemmott strongly encourage these tour operators to visit the SPTC to start the application process.
For any questions or concerns, please call the San Pedro Town Council at 226-2198.
Follow The San Pedro Sun News on Twitter, become a fan on Facebook. Stay updated via RSS