Wings of Hope gives BERT a new air ambulance
Friday, August 4th, 2017
The Belize Emergency Response Team (BERT) celebrated its 19th anniversary on Tuesday, August 1st with the acquisition of a new air ambulance, a US$155,000 gift from the Wings of Hope organization based in St. Louis, Missouri USA. Part of the acquisition cost was paid for by the Wagner Foundation of Wisconsin, USA.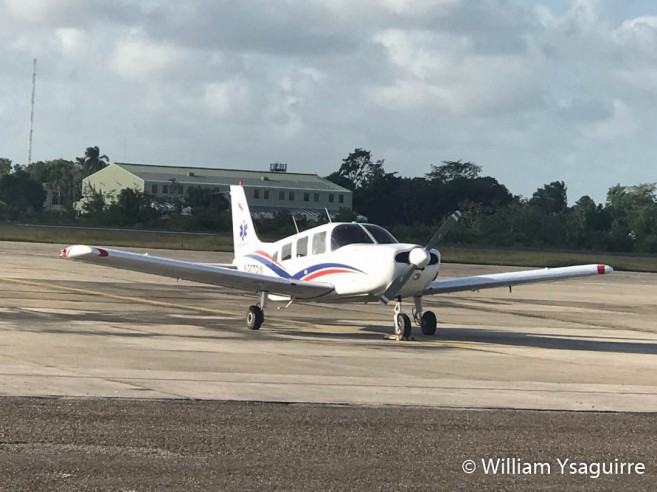 Wings of Hope pilots flew the new Piper Cherokee 6 air ambulance into the Philip Goldson International Airport, touching down around 3:45 on Monday afternoon, July 31. After clearing Customs, the aircraft was flown to the BERT hangar at the Belize City municipal airstrip on Tuesday afternoon, where Wings of Hope veteran pilot Ed Schertz and Jim Mallette formally handed over the new plane to BERT's national coordinator/general manger Andre Carillo.
The new Piper Cherokee is a six-seater aircraft, and when operating as an air ambulance, will carry one pilot, one emergency medical technician (EMT), and one patient accompanied by one family member. It cruises at 120 miles per hour, fast enough to fly a patient from Punta Gorda to municipal airport in 45 minutes, Mallette explained. Mallette was the Wings of Hope pilot based in Belize from 2010 to 2012. He is presently filling in for the pilot stationed in country, who is on vacation. Schertz began flying with Wings of Hope in 1971, and said Wings of Hope has been serving Belize since 1986.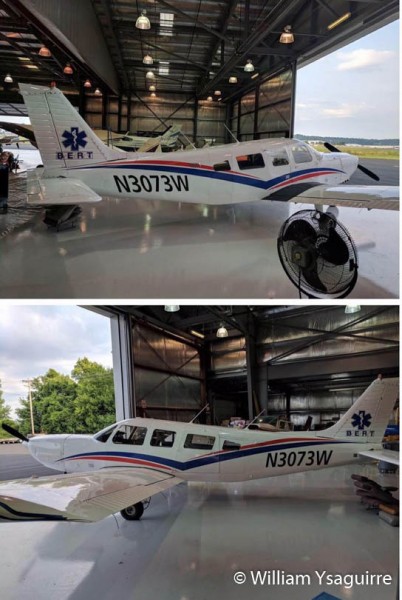 Carillo announced BERT's other good news, that it has overcome the financial challenges which caused it to close down for a day on September 1, 2016. The Ministry of Health moved in to help, and by the following day BERT was operational again. Together with the Ministry and BERT, they have worked out a partnership soon to be formalized by a Memorandum of Understanding, which Carillo said he expects will be signed by the end of the week.
Follow The San Pedro Sun News on Twitter, become a fan on Facebook. Stay updated via RSS