Conservationists call for the ban on gillnets after female Tiger shark found tangled in one dies
Friday, September 15th, 2017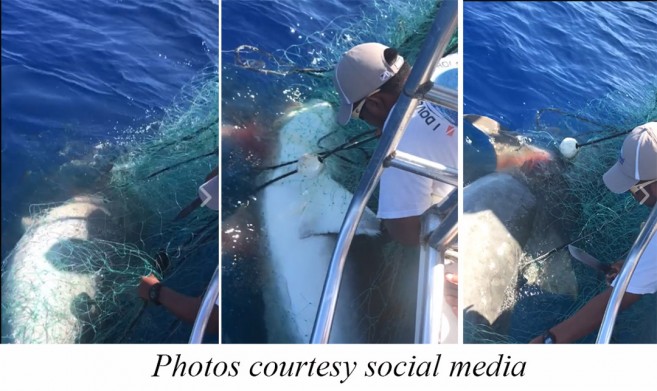 The death of a female Tiger shark is being linked to the irresponsible use of a gillnet. The discovery was made by a local San Pedro Town tour operator, who was travelling back to the island after a trip to Lighthouse Reef Atoll. Despite their efforts to assist the shark entangled in the net, it was too late to save the magnificent animal.  This latest incident has conservationists calling on the government to ban gillnet and long line fishing in Belize.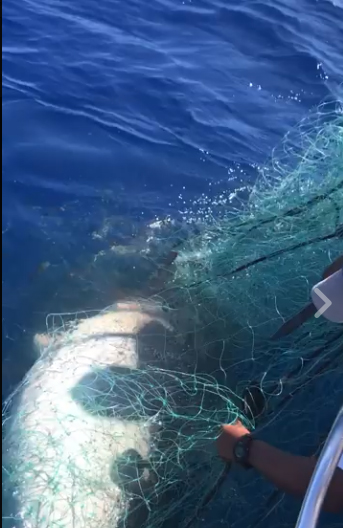 According to MarAlliance, a non-governmental organization based in San Pedro Town, the net had no tag, indicating that it was not registered and therefore, illegal. The net was also far longer than regulation, which reveals that shark fishing is taking place, despite the fact that the shark fishing season is currently closed. "Nets are difficult to enforce and they indiscriminately kill both protected and unprotected species," said MarAlliance. "Live sharks are worth so much more to Belize, marine health, and so many Belizean families and businesses through the tourism dollars they bring. Dead sharks are generally exported as fillet and fins by a handful of fishermen." According to tour guides on the island, the Tiger Shark population in Belize is low, and many times when they are out on diving trips, they never get to see one. The sight of a dead Tiger shark entangled in a fishing line angers them as well.
MarAlliance warns that if the nets are kept, the decline in the fisheries' population will continue. Other marine conservationists like Janelle Chanona from Oceana in Belize, along with many Belizean fishermen, continue to advocate for the banning of gillnets as a means of fishing in Belize. They continue calling on the government to once and for all, eradicate the practice. "It has been a concern that sharks are needed to keep a balance in the seas, but now they are falling victims to gillnet fishing," said Chanona.
The Department of Fisheries stated that they are monitoring the situation along with the Belize Coast Guard. They have increased their enforcements in order to deter any continued illegal gillnet fishing. The Department also told The Sun that they are working hard to find the responsible person(s) that owns the net that killed the Tiger shark. They remind the general public that all gillnets must be tagged and cannot be used along the reef, near marine protected areas or areas where there is a high rate of boat traffic. The public is also encouraged to report any persons engaged in illegal gillnet fishing to the Fisheries Department by calling 224-4552.
Follow The San Pedro Sun News on Twitter, become a fan on Facebook. Stay updated via RSS