Minister Heredia denies the sale of Boca del Rio Park
Friday, March 23rd, 2018
Rumors that the Boca del Rio Park located north of San Pedro Town had been sold to a local investor have been refuted by Area Representative and Minister of Tourism and Civil Aviation, Honourable Manuel Heredia Jr. Heredia expressed surprise upon being told of the allegations, reiterating that the park is public property, and under no circumstances should or would it ever be sold under his watch.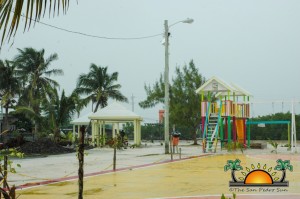 The rumors began surfacing when many piles of material were observed adjacent to the basketball court at the park and many islanders began spreading news of the possible transaction. The area is very popular with sporting recreational activities, and Minister Heredia was approached about the suspicious sale, who immediately disregarded any possibility of it ever taken place. "Anything that Government sells I will know and they will not sell anything without consulting with me," said Heredia. "Particularly a park, we would never sell it," Heredia commented that back in the early 1990's when the Opposition was in power on the island the area was not a park, but people used to visit the area. He added that during that time he ran for Mayor and one of his promises then was to turn the said location into a park. "During my campaign, I said that if I won I would make it into a park, and so it was done. When I was elected Mayor in 1994 we fixed up the area. It will never be up for sale at all," Heredia declared.
A call was placed to the Lands Department in Belmopan City, who corroborated Heredia's statement. They indicated that no such transaction has taken place and as far as they know the park continues to be a public area.
The park has seen numerous renovations throughout the years and indeed is a popular area for leisure activities and is a favorite family spot on Sundays. Many of the recent renovations include the construction of gazebo style palapas, each with its own picnic table, a new and complete playground set, and the painting of the basketball court. Other additions have been the installation of basketball nets and the planting of several flowers and shrubs around the park.
All these refurbishments have been made through the united effort of the business community who works along with the local authorities to continue creating better recreational spaces for residents. The next project to benefit the park is a beach reclamation initiative that the newly elected San Pedro Town Council hopes to achieve starting from the Central Park all the way to the Boca del Rio Area.
Follow The San Pedro Sun News on Twitter, become a fan on Facebook. Stay updated via RSS