Tacogirl launches battery recycling project on Ambergris Caye
Saturday, April 7th, 2018
Thanks to an initiative by Laurie Norton, AKA Tacogirl, island residents can now properly dispose of their old batteries. The project requires residents to drop off their old batteries at the recycling containers located at any of the following businesses; Castillo's Hardware Ltd, SP Hardware, and Harmouch Hardware. The type of batteries that are being accepted includes alkaline, lithium, nickel cadmium and rechargeable ones.

According to Norton, in October 2017 she asked Harmouch Hardware if they would be willing to place a battery recycling container in their store if she would purchase and ship it to them. They generously said yes. She also approached Castillo's Hardware Ltd, and they were also willing to be a part of the battery recycling project. Sara Reza of Have Fun Stay Fit helped by reaching out to SP Hardware, who was more than happy participate as well. With three of the largest hardware stores on board, the project was well on its way.
Norton told The San Pedro Sun that for years, she has noticed the amount of misplaced garbage on the island, and learned about all the negative impacts it has on the environment from her scientific friends. However, she decided that it was time for her to do something more than just her personal recycling efforts to help in the movement of keeping the environment clean. That's when she decided to start the battery recycling project, as she felt it was needed on the island.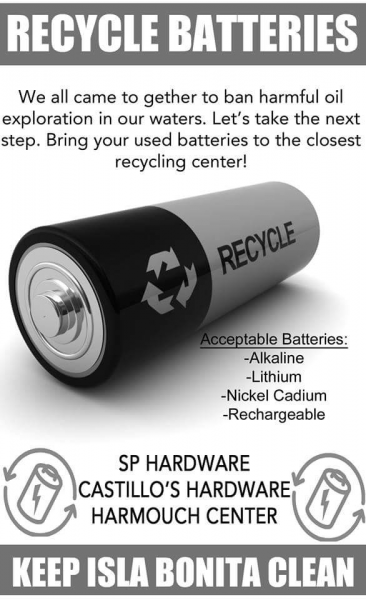 She believes that this project will certainly have a positive impact on the island. "Battery recycling will be beneficial to San Pedro as it will help keep toxic garbage out of the ground. The fact that even before the three containers were placed, local residents like Cathy Slattery and local businesses like Laminar Fly, Erica Barker Photography, Romantic Travel Belize and Quicksilver Messenger tracked me down to give me their stash of old batteries it was evident there was a need," said Norton.
Since the placement of the containers about four months ago, Norton says they have collected a total amount of 20 pounds of dead batteries.
Currently, the batteries are just being collected as the proper paperwork needs to be drafted by the correct authorities to safely export the batteries to a recycling center by sea and ground transport. Once shipping/export has been secured, Norton foresees the project broadening its slope to other areas of Belize.
Follow The San Pedro Sun News on Twitter, become a fan on Facebook. Stay updated via RSS