New garbage collection regulations implemented by SPTC
Saturday, May 5th, 2018
A new garbage collection regulation mandated by The San Pedro Town Council (SPTC) has many island residents unhappy. Effective Friday, May 4th, all garbage containers must be placed inside the yards of residential and commercial areas. This new regulation also demands that all garbage bins must be easily accessible by its sanitation personnel for disposal, and warns that failure to follow this new rule will result in the removal of their garbage containers from the street.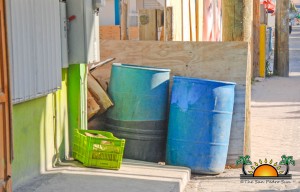 The announcement was made on Thursday, April 26th and despite the immediate opposition by residents, the new regulation will go into effect as is. Residents are frustrated that the public was not consulted prior to this new policy or that a trial period was imposed. "This will be complicated. The Town Council should reach out to residents before implementing these rules," said one concerned resident, "this will cause more problems than solutions." Many homeowners claim that the garbage collectors are careless once garbage has been tossed in the collection truck, and they simply leave the garbage bins lying around.
Some suggestions include having elevated bins right outside of the property where bins can be easily accessible when the trash is picked up. "I believe that the proper way is to put the bin into a rack a foot off the ground, it will not take up much space and your sanitation workers will not be trespassing private property," said one resident. Having the garbage bins high off the ground would also deter stray dogs from accessing the garbage, which the SPTC claims are the basis for their new regulation. Another resident commented, "If the problem is stray dogs getting into trash cans on the street, then dogs are the problem. What is town council doing to help SAGA Humane Society with this?"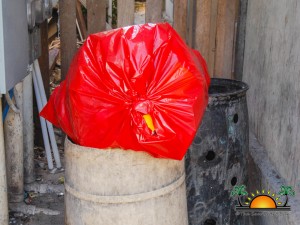 Many homes are fenced in to contain guard dogs, and residents worry that sanitation personnel will not want to enter the gates to access the garbage cans for fear of their animals. Some residents are already claiming that they will not be held liable if any of the garbage collectors are attacked by their guard dogs, as they don't believe in having to tether them inside their fenced property. Another potential scenario involves the same personnel not latching gates properly, allowing dogs to escape, thus adding to the stray dog issue.
Residents are mostly upset by the fact that there was hardly any notice prior to the implementation of this new regulation. Many believe that for such a drastic change, the SPTC should have given at least a three-month notice before enforcing change. By giving residents time, perhaps another issue could have been sorted, namely setting an accurate garbage collection schedule that would provide residents with the confidence to leave their garbage bins out for pick-up if there is a set date and time per neighborhood. "We never know when [sanitation workers] are coming," one resident said. "I really hope the Mayor revisits this regulation because it might become chaotic." Most of the residents The San Pedro Sun spoke to agree that local authorities should work closely with the people, engaging in consultations before implementing new rules. By doing so, everyone can avoid confusion and misunderstanding.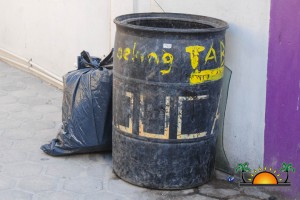 In January of this year, Mayor Daniel Guerrero outlined plans to tackle garbage on the island, emphasizing garbage collection. He spoke of scheduled garbage pick-ups for large amounts of garbage in different sub-divisions throughout the month. According to him, people will have a specific time to collect all their garbage and have it ready to be collected by the garbage trucks. The Mayor explained that no garbage should be outside of any property unless it is on the scheduled day of trash collection. However, residents insist that they are yet to see a schedule and hope that the Mayor brings up other alternatives.
The San Pedro Sun made several attempts to contact Mayor Guerrero to discuss a potential community consultation, but up to press time, he was unavailable for comments.
Follow The San Pedro Sun News on Twitter, become a fan on Facebook. Stay updated via RSS