Thousands of pounds garbage removed during SP BTIA clean-up in San Pedro Town
Friday, November 16th, 2018
The San Pedro Chapter of the Belize Tourism Industry Association (SP BTIA) along with the American Crocodile Education Sanctuary (ACES) and the San Pedro Town Council (SPTC) held a huge clean-up campaign in San Pedro Town from Friday, November 9th to Monday, November 12th. The improper disposal of garbage has long been an issue on Ambergris Caye. Illegal dumping has resulted in street sides littered with large items such as appliances and old furniture, polluting our water system, marring our natural beauty and threatening the health of our environment.

The goal of the SP BTIA four-day clean-up campaign was to pick up garbage from multiple locations in various neighborhoods, but due to the massive amounts of trash located in one area, the San Pedrito Highway, efforts focused on clearing the road of all trash. Throughout the four days, from 8AM to 4PM, there was an army of seriously dedicated and hardworking people along with multiple golf carts, trucks, trailers, backhoes and bulldozers, who pulled tons of trash from the San Pedrito Highway. Despite the combined efforts, tons of garbage remains along the road.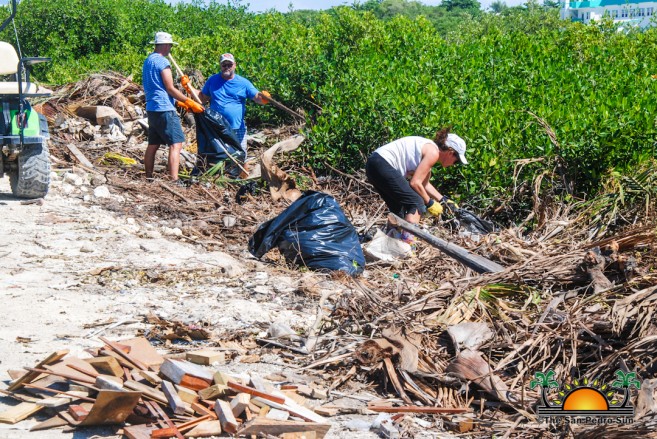 In addition to the San Pedrito Highway, other parts of the group managed to clean areas in Boca del Rio, while high school students from Collingwood School, Vancouver, British Columbia, Canada along with Belize Diving Adventures, Felipe Paz and Dave Wade tackled the Mosquito Coast park south of town. The garbage collected, contained old washing machines, dryers, golf cart parts, Styrofoam products, barrels, broken computers, refrigerators, rusty irons, grills, tires, glass, pipes, and wood.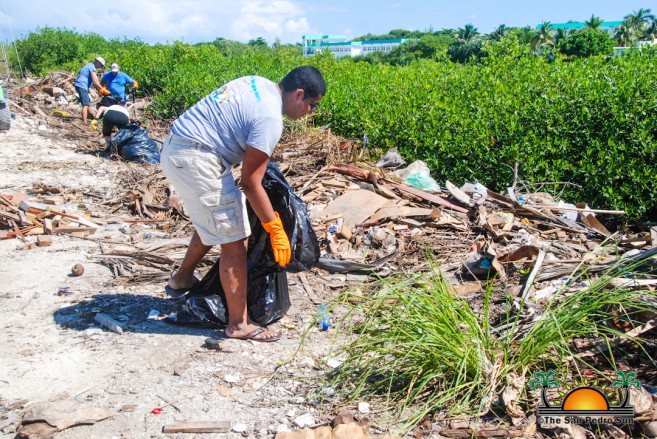 Over four days, more than 150 volunteers collected more than 900 bags of trash and 744 square yards of garbage with 151 vehicle/truckloads delivering to the Transfer Station, located south of Ambergris Caye.
Via their social media account, ACES expressed frustration over the fact that the San Pedrito Highway is only two years old and is covered in endless amounts of garbage. "We hope that we get to a point where these cleanups are not necessary because of the respect people have for the island, that the love that we have for where we live will not allow this level of pollution to exist ever again. We are very far from that. There is a lot of change that needs to happen before that can become a reality. We challenge all of you, let's make this be the turning point, let's all as a community stand up together and put our foot down, no more of this ugly dumping on our island!," stated ACES.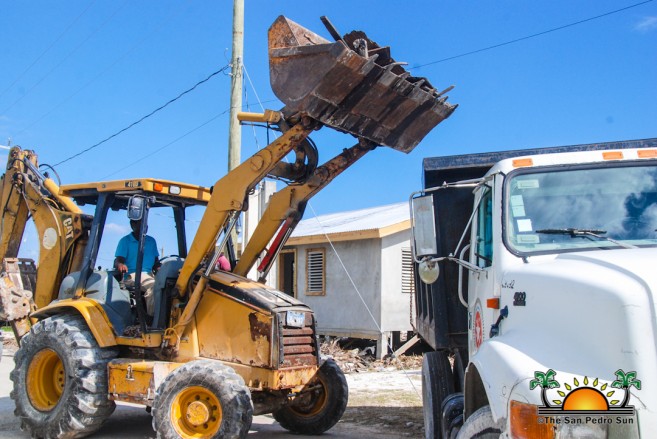 Others also expressed their disappointment, pointing out that Ambergris Caye was named TripAdvisors' Travelers Choice as the #1 Island in the World for two consecutive years, from 2013-2014. As such, it is unacceptable for it to be so covered in filth. "I almost feel like it is a complete sham that we won. I say almost, because I know many wonderful people of this island helped a great deal in our wins," said Laurie Norton, blogger at Tacogirl.com. "No one should have to live beside garbage or see that much of it on their way home. Childhood memories should not be filled with massive piles of trash in their neighborhoods. Tourists should not see this coming in on the plane or when they drive around – which they have been for years."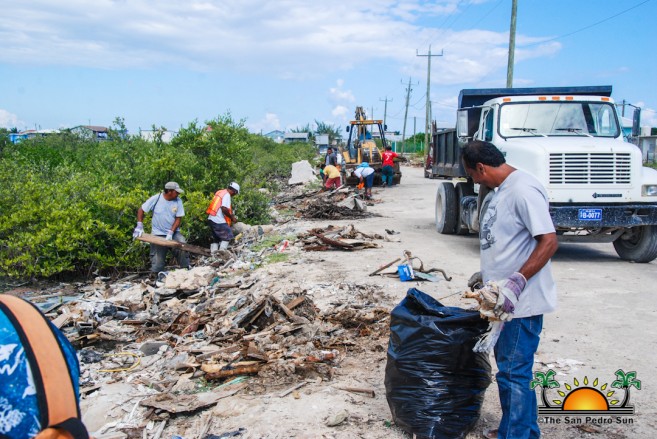 Another clean-up volunteer, Diana Evans stated that it was devastating and heartbreaking experience. "The clean-up of the San Pedrito road was heartbreaking and heart warming. It was an emotional experience. Heartbreaking because the life-giving mangroves are being poisoned. Humans have deliberately put trash in the water. The mangroves are trying to grow in water that is scary to look at. The water is a strange polluted color. It looks and is, toxic. Heartwarming because there were so many hardworking people doing their best to remove this trash," said Evans. "Every person in San Pedro should visit the dump to see what goes on. My lasting impression is that I want to be part of the solution. I want to help organize every single person who lives here to take action and save this island. It is so obvious that we are destroying our environment. We will not have a reef or a habitable island in a few short years. It's a simple as that. Every single person who lives here is dependent on tourism. We have the choice right now. To be an embarrassment to the world or to be an example to the world. We can render our island uninhabitable with a dead reef, or we can clean up our act and be proud of what we have done. The answer is obvious. Let's do it! NOW!"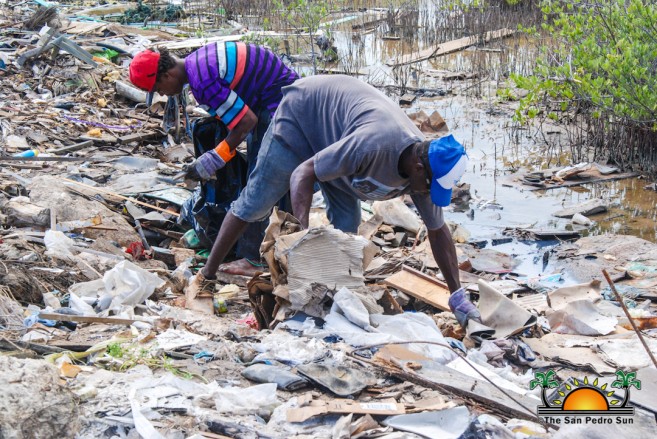 SP BTIA Chairwoman Tamara Sniffin weighed in on the success of the campaign. "It was a huge undertaking and overwhelming. There are no words to express how hard so many of us have worked to make this happen, and although we have just scratched the surface, there are already other groups in the community who want to initiate their own clean-up campaigns which is fantastic! We are eager to work with the Town Council in enforcing illegal dumping fines and identifying who the culprits. We are also working on several follow-up strategies and plans for Captain Conch educational outreach to the schools.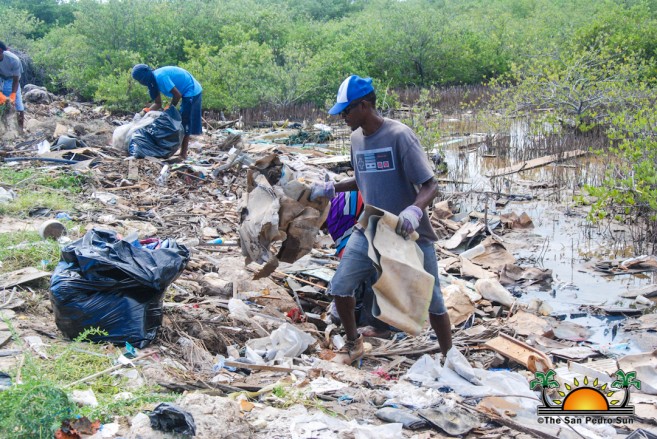 Our sincere hope this that this campaign motivates island residents to take pride in their community and work on keeping their surroundings clean," Sniffin commented. "One thing we learned from this campaign is that many local truck services which businesses hire to remove their garbage are not taking it to the Transfer Station but illegally dumping it in these areas that have turned into dump sites. If a business were to require a receipt from the Transfer Station before paying the trucking company that would be an effective way to stop this practice."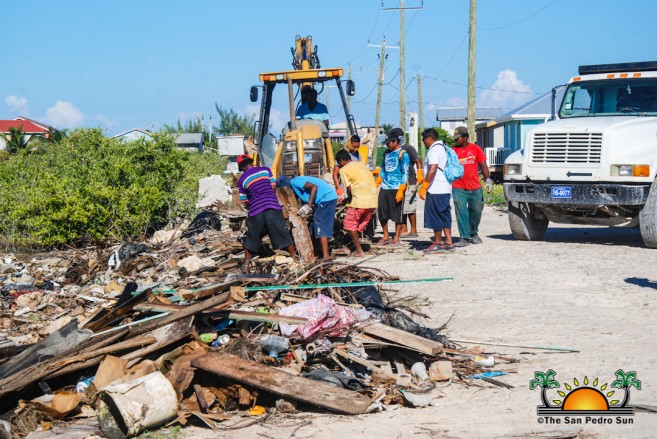 Island residents are asked to be vigilant and if they see anyone dumping garbage, to take photographs or report them to the relevant authorities. SP BTIA thanks the Belize Soild Waste Management Authority for waiving the fee at the Transfer Station during the campaing and the dozens of businesses, organizations, and individuals who donated money, food, supplies and manpower. They also encourage every person on the island to do their part in keeping La Isla Bonita…bonita.
Follow The San Pedro Sun News on Twitter, become a fan on Facebook. Stay updated via RSS