Her Majesty The Queen recognises Belize volunteer with Commonwealth Points of Light award
Wednesday, November 21st, 2018
Her Majesty Queen Elizabeth II has today recognised Grace Flowers, representing Belize, as the 79th Commonwealth Point of Light in honour of her exceptional voluntary service tackling gun violence and crime in Belize City.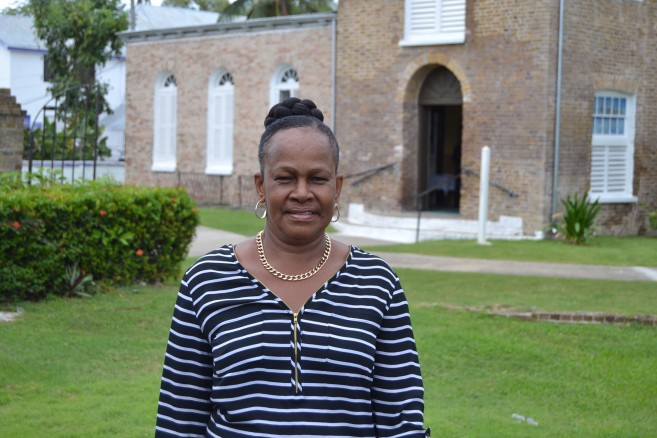 Grace Flowers, coordinates and leads the 'One Struggle Group', a support network for those affected by gun violence in Belize City. Having grown up in one of the most violent gang areas in Belize, losing two brothers and a nephew to gun violence, Grace is a prominent figure in the community leading change for a more secure and safe environment. Grace acts a coordinator for the police in her neighbourhood, leads regular meetings and ensures that strong police and public relations are built. Grace's positive influence has helped hundreds of young people to stay away from gang involvement, resulting in a dramatic decrease of crime in the area..
As part of the legacy of the Commonwealth Heads of Government Meeting in London 2018, Her Majesty The Queen – as Head of the Commonwealth – is thanking inspirational volunteers across the 53 Commonwealth nations for the difference they are making in their communities and beyond, by recognising one volunteer from each Commonwealth country each week in the two years following the summit.
By sharing these stories of service, the Commonwealth Points of Light awards celebrate inspirational acts of volunteering across the Commonwealth and help inspire others to make their own contribution to tackling some of the greatest social challenges of our time.
Each Commonwealth Point of Light will receive a personalised certificate signed by Her Majesty The Queen as Head of the Commonwealth. The award for Grace Flowers will be presented on 21st November at The British High Commission by Claire Evans.
Grace Flowers said:
"It is with humility that I stand here today receiving the Points of Light Award. Many communities throughout Belize are plagued with crime and violence, leaving the youths with no outlet and the feeling of despondency. Engulfed in this culture on a daily basis results in the youths feeling that there is no way out, or the only way to survive is to be a part of the crime and violence. My role as a community member is to be their support system, which in some case requires me to play the role of a mother, sister and friend. A responsible citizen should assist in providing an outlet for these youths. I encourage them to keep their heads up, stay humble, be respectful and most of all stay focused.
"Once again thank you for such a prestigious recognition. I pledge my continued support in the community I serve."
Claire Evans OBE, UK High Commissioner in Belize said:
"I am delighted that Grace has been recognised by Her Majesty the Queen as a Commonwealth Point of Light.
"Grace has shown remarkable commitment and bravery in her determination to provide a better present and future, for the young people in her neighbourhood of Belize City, an area known for its gang violence and crime. The fact that Grace has gained the respect of many gang leaders, of the wider community and of the police, speaks volumes about her and all that she does.
"Her work is a shining example of the impact that one dedicated volunteer can make in improving the everyday lives of people. Under her positive influence hundreds of youths have been guided away from gang involvement and a life of crime, while many grieving mothers and others affected by crime and violence have found support from Grace. She is an inspirational woman with a powerful vision to create a peaceful environment in which people, especially the youth, can thrive."
The Commonwealth is a diverse community of 53 nations that work together to promote prosperity, democracy and peace. The Heads of Government meeting brought together leaders from all the 53 Member countries to reaffirm common values, address shared global challenges and agree how to work to create a better future for all citizens, especially young people. Voluntary service is a vital part of this agenda, which is why Her Majesty The Queen has chosen to recognise outstanding volunteers across the Commonwealth in this special way.
Follow The San Pedro Sun News on Twitter, become a fan on Facebook. Stay updated via RSS