Island authorities make arrangements to return mainland residents back home
Wednesday, April 1st, 2020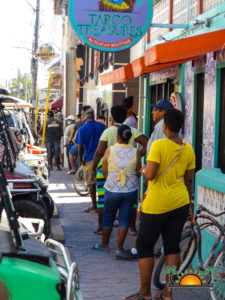 A large number of people confined to the island since March 23rd following the first confirmed COVID-19 (Coronavirus) case lined up by The San Pedro Town Council (SPTC) on Barrier Reef Drive on Wednesday, April 1st. This was an attempt to join a list of persons who will be transported to the mainland on Saturday, April 4th. Many of the applicants were trapped on the island when a state of emergency was declared over a week ago, and no one was allowed to leave. The unprecedented regulation also affected those who were planning to head back to their communities of origin after their places of employment had closed.
Public transportation to and from San Pedro is still suspended, and in order to get persons off the island, special arrangements have to be made between the local authorities, police and the Department of Health. The process asked people to provide their contact information, and their reasons why they need be evacuated from San Pedro. Afterwards, the person(s) are contacted and informed if they have been selected to leave the island. The screening process also includes a medical check- up which ensures the individual is in good health and does not present any suspected symptoms. Everyone is advised that there will be a fee to get off the island. That fee is unknown at this moment.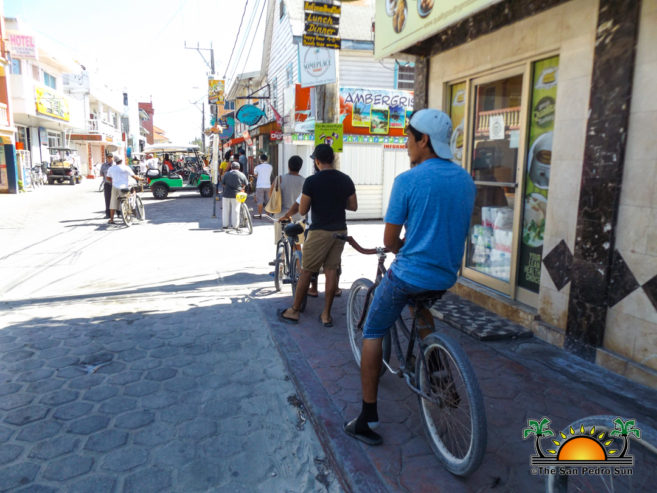 A couple persons shared their stories with The San Pedro Sun, saying that they are frustrated with the situation, when all they want is to return to their homes on the mainland. One gentleman stated that he is now unemployed, and does not have any income to continue paying rent and although certain humanitarian groups on the island are helping with groceries, he believes he will better off back at his mainland home. Another one shared that on the mainland they can find something to do, while on the island, the main source of labour is tourism, which is non-existent at the moment. Others added that they want to be with their families and that when all this crisis is over, they will return to San Pedro and once again support the labour that this fast-growing island community always demands.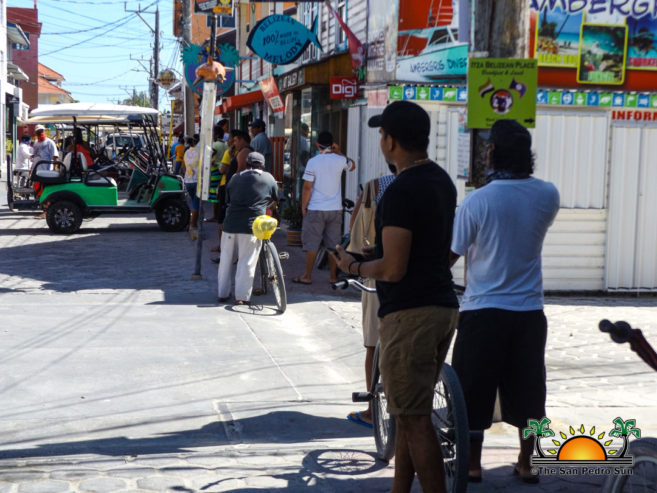 The SPTC has added two more vetting dates. On Thursday, April 2nd and 3rd, from 10am to 1pm, people can come by the SPTC (adhering to social distancing measures in place) and state their case. There is not much information about the boat that will be taking this group of people to the mainland and a time has not been set. When the boat departs on Saturday, it will not return to the island. Meanwhile, there are many stranded on the mainland that wish to return to their homes on the island. According to the authorities on the island, there is no known plan to bring them over, but if arrangements are made from the mainland, they can contact the SPTC at 226-2198 or the Officer in Charge of the Coastal Executive Unit, Superintendent Christopher Noble at 600-3533 for further guidance.
In the meantime, Ambergris Caye is preparing to join the rest of the nation in a national state of emergency that starts at midnight on April 2, 2020. This includes a curfew from 8PM-5AM, no loitering allowed, and wandering and assembling at any public place will not be permitted. If police find anyone out and about without a justifiable reason, that person may be arrested and charged.
Movement will be allowed during the day (5AM-8PM) to purchase essential needs (including medication) or if you are an essential worker. Essentials include security guards, agriculture or factory workers, bakeries, tortilla factories, sanitation workers, public transportation, fuel stations, port operators, along with governmental institutions that may need to remain open.
The Belize Government re-emphasizes that Belizeans remain calm; fear is the most dangerous contagion. The most effective action each Belizean can take to secure the safety of themselves, their families, and the country is to follow the hygiene rules. Washing hands with soap and water, using a sanitizer if necessary, covering a cough or sneeze, trying not to touch the eyes, nose or mouth, and immediately dispose of tissues if used to cover a cough or sneeze.
Remember to stay updated on official information concerning COVID-19. Visit the Government of Belize Press Office website at www.pressoffice.bz; or the Facebook pages for the Ministry of Health, the Director of Health Services, and the Government of Belize Press Office; or call the Ministry of Health's hotline at 0-800-MOH-CARE.
Follow The San Pedro Sun News on Twitter, become a fan on Facebook. Stay updated via RSS