R.I.P. Rita Firestone
Tuesday, June 23rd, 2020
Sunrise: October 17, 1948
Sunset:  June 18, 2020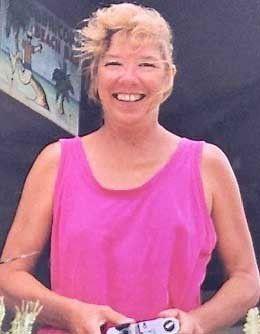 Rita Lois Firestone, 71, a woman who pledged allegiance to the love of friends, the surety of math and the beauty of Belize, died of cancer on Thursday, June 18, 2020, at her home in Roanoke.
Raised on a farm in Botetourt County, Rita grew up to become a teacher, Scuba diver, potter, baker, gardener, storyteller, organizer, planner and friend with a knack for seeing life's absurdities and laughing at them. She was tiny but deceptively tough, the survivor of eight hours of heart surgery and other health problems, but she never complained.
Her friends were many, and she was the glue that held them together, fanatically loyal to her. Once, when a tourist bus was leaving her behind at a Mayan ruin in a remote Guatemalan jungle, one friend made the driver stop and another stood in front of the bus until the driver agreed to go back and pick her up.
Rita was born October, 17, 1948, the daughter of the late Randolph and Eva Lois Mundy Firestone. She graduated from Lord Botetourt High School and Lynchburg College. She later returned to Lynchburg for a master's in mathematics. She said she loved math because of its clarity: "Either it's right or it's wrong."
She taught for 25 years in Botetourt County at Buchanan Elementary, Botetourt Intermediate, and Read Mountain Middle School. She had a knack for figuring out which students needed some personal attention. In a quiet way, she'd help them, often out of her own pocket. She had an adventurous side and loved the ocean.
She traveled to Hatteras every fall. In her 40s, she and a friend went on a foray to Belize and she fell in love with its Ambergris Caye. She took a year's sabbatical from teaching to move there. She later bought a place on Ambergris and became an accomplished diver.
Rita is survived by her partner in life, Garrick "Rick" Keller; her older brother, Bill Firestone; and a league of friends who love her dearly. Her older sister, Shirley Kinzie, who died in 1987, was her best friend and a second mother to her.
Perhaps the thing her friends will miss most about her was her sense of humor. Said her brother, Bill: "The thing I keep remembering about Rita is how funny she was. She always made me laugh."
Oakeys Funeral Service South Chapel is handling arrangements. There will be no funeral service.
To plant a tree in memory of Rita Firestone as a living tribute, please visit Tribute Store.
Follow The San Pedro Sun News on Twitter, become a fan on Facebook. Stay updated via RSS