U.S. Government Delivers Disaster Response Supplies to NEMO
Friday, August 21st, 2020
On August 20, the U.S. Embassy delivered disaster response equipment and supplies valued at over U.S. $88,000 to Belize's National Emergency Management Organization (NEMO) in a handover ceremony at the NEMO Warehouse in Ladyville. Major Matthew Adams, U.S. Embassy Belmopan Office of Security Cooperation Chief, represented the U.S. Embassy when handing the items to Retired Lieutenant Colonel Shelton Defour, who received the goods on behalf of NEMO.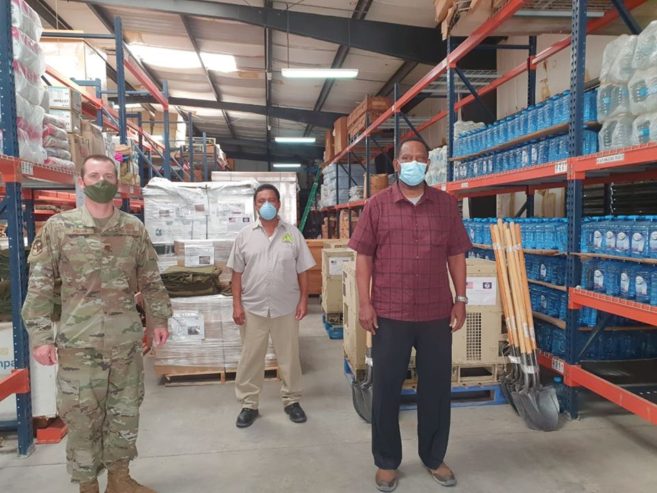 "Hurricane season reminds us that even as the United States and the Government of Belize focus on reducing the spread of COVID-19 in Belize, we must also work together to prepare against the threat of natural disasters," Major Adams declared. "The U.S. Embassy and U.S. Southern Command remain strongly committed to our partnership with the National Emergency Management Organization to deliver timely assistance to the people of Belize in the event of a hurricane or any other natural disaster through the donation of this critical emergency preparedness equipment." The U.S. government donations will enhance NEMO's ability to effectively coordinate disaster response efforts and deliver timely assistance to the people in Belize in the event of a disaster. The donations include items such as generators, blankets, folding chairs, tables, box-spring mattresses, water canisters and lamps intended for use in a crisis. The donations continue to build on the U.S. government's longstanding commitment to
improve Belize's disaster response capabilities.
Follow The San Pedro Sun News on Twitter, become a fan on Facebook. Stay updated via RSS