U.S. Government Delivers Fire Truck to Ladyville Fire Station
Wednesday, November 25th, 2020
The United States Embassy delivered a Fire Truck to Belize's Ladyville Village Council and Fire Station at a November 23 handover ceremony in Ladyville. U.S. Chargé d'Affaires, a.i. Keith Gilges presented the fire truck to Fire Chief Colin Gillett, of Belize's National Fire Service.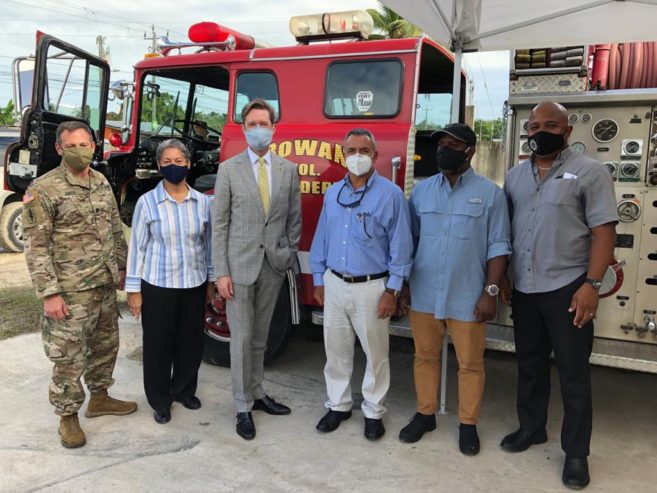 "By providing transport to ensure that today's donation is made possible, we in the United States government are reiterating our commitment to building Belize's disaster and crisis response capabilities, and to protecting the health and safety of the Belizean people," said Chargé Gilges. "Whether you are in the United States or Belize, firefighters represent some of the bravest and most selfless individuals you will find in any society. These are the individuals who run into danger, not away from it, to save the lives of others," he said. The U.S. Embassy is proud to stand in support of firefighters across Belize."
The Volunteer Fire Department of Kelly, North Carolina donated the fire truck through the U.S. non-governmental organization Global Gear Initiative. The United States Government delivered the fire truck through the Denton Humanitarian Aid program, a jointly administered program of USAID, the Department of State and the Department of Defense.
This program was started more than 30 years ago to assist U.S. based non-governmental organizations with delivering humanitarian cargo to countries in need around the world. Since then, millions of pounds of cargo have been delivered by land, air and sea.
Follow The San Pedro Sun News on Twitter, become a fan on Facebook. Stay updated via RSS