Scottish acclaimed toy pirate ship 'Adventure 2' expected to reach Ambergris Caye
Wednesday, January 27th, 2021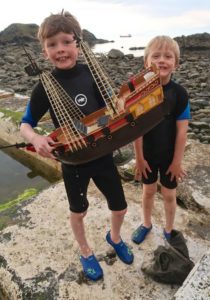 A record-breaking journey involving a toy pirate ship is about to include Belize in its itinerary. Initiated by 11-year-old Ollie and 8-year-old Harry Ferguson from Scotland, the little pirate ship dubbed 'Adventure 2' or A2 is currently floating about 12 nautical miles south-east of San Pedro Town, Ambergris Caye. If it stays on this course, it is expected to land somewhere north of the island after 8PM today, January 27th. A2's journey can be followed on Facebook via https://www.facebook.com/tdajp.
The playmobil/pirate ship's speed is 1.4 knots and depends on the winds and currents to continue its journey back to Scotland. The movements of A2 are tracked via a Global Positioning System (GPS). Ollie's and Harry's parents ask everyone to keep an eye out for A2 and if/when it beaches on Ambergris Caye to return it safely back to sea.
According to reports, A2 was launched 60 miles north of Guyana four months ago, riding currents on the Caribbean Sea and surviving inclement weather. Early in December 2020, the toy vessel landed in a remote area of Honduras, where it was rescued and taken to the island of Guiana. Christopher Columbus visited this island in 1502.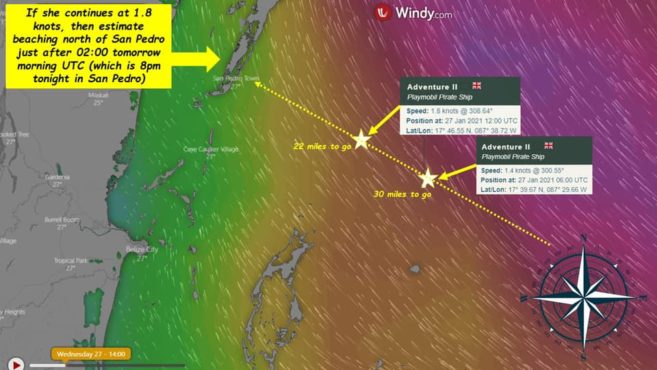 The pirate ship underwent some repairs, and days later, a cheerful family released it on the Caribbean Sea to ride predicted currents leading to Belize, Mexico, Cuba, and into the open Atlantic Ocean. A2 continues moving north-west near Turneffe Atoll. Many islanders acquainted with this project are already eager to spot A2 and help it continue its sails back to Europe.
The beginning of the adventure
Ollie and Harry wanted to do a version of the classic sending a message in a bottle, but their parents suggested a Playmobil pirate ship instead. After building it, they launched Adventure from Peterhead, Scotland, in May 2017. It sailed to Denmark, Sweden, and Norway. As the project and boys gained popularity, the family was approached by Christian Radich, a Norwegian full-rigged ship offering to take Adventure out of the North Sea and into other waters. The toy ship underwent repairs once again and was then launched off Mauritania's coast on the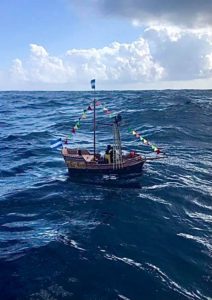 Atlantic Ocean. The OPEX Group kindly sponsored a GPS tracker and followed the toy ship's long journey across the Atlantic Ocean until it reached Barbados in the Caribbean. Unfortunately, the tracker died, and Adventure could not be recovered. The project received worldwide media attention, and in October 2019, Ollie and Harris were recognized by Guinness World Record for the longest distance travelled by a toy ship.
In 2020, a new opportunity for the project developed when a family from Trinidad and Tobago (Lewis) contacted Ollie's and Harry's. A new pirate ship was constructed and baptized with the name Adventure 2. It was released in September 2020 off Guyana's coast by the Normand Installer, an Offshore Support vessel. A2 has the same tracker as the previous toy ship, this time donated by the Caribbean Oceanography Aquaculture and Subsea Technology Foundation. The Lewis family are co-founders of this company.
In the meantime, Ollie and Harry have enjoyed brief moments of celebrity status, as this incredible adventure has led them to TV and radio interviews.
Follow The San Pedro Sun News on Twitter, become a fan on Facebook. Stay updated via RSS